As a legendary music player that was known for its fabulous music playback quality and classic design, Sony Walkman has been released for 40 years. In the past 40 years, Sony Walkman witnessed the fall of traditional disks and the rise of digital music. Sony Walkman has always maintained the goal of providing excellent music players for users during this turbulent 40-year period in the music industry.

People Need to Enjoy Apple Music on MP3 Players
This year, 2019, is the 40th anniversary of Sony Walkman. Many Sony Walkman supporters and fans, even those who have used or have only heard of Sony Walkman, have come up with their own Sony Walkman intends to listen to music and celebrate the 40th anniversary of Sony Walkman, which is full of joyful and beautiful memories.
In 1979, Sony released the first Walkman, which was built from a modified Sony Pressman, a mono cassette recorder. The metal-cased blue-and-silver Walkman TPS-L2, the world's first low-cost portable stereo, went on sale in Japan on July 1, 1979. Once launched, Sony Walkman was hailed, even though Sony itself did not anticipate this. Sony predicted Walkman would sell about 5,000 units a month, it finally sold more than 50,000 in the first two months. Because this Sony Walkman TPS-L2 was so hot and classic in the past, and this year is exactly the 40th anniversary of Sony Walkman, Sony launched a re-edition of Walkman TPS-L2 at IFA this September.

After so many years of changes in the music industry, many people have chosen to listen to music on the music streaming platform, such as Apple Music, one of the best music streaming platforms. Whether users who choose to listen to music with Sony Walkman again for the 40th anniversary or insist on using Sony Walkman for the whole time, they are facing with such a problem: Apple Music songs can't be transfered to Sony Walkman, therefore, they can't enjoy their favorite Apple Music songs on Sony Walkman. This problem caused by the encryption technology that Apple created for some reasons. The downloaded Apple Music songs are in M4P format and they are not allowed to transfer to other devices like iPod Nano/Shuffle and Sony Walkman for listening.
For those who feel disappointed for this problem, please allow me to bring you good news. All M4P files of Apple Music can be converted to MP3/M4A/AIFF and other plain audio format by TuneKeep Audio Converter so that users can transfer the converted Apple Music songs to their Sony Walkman for listening.
Choose TuneKeep Audio Converter to Help You Enjoy Apple Music on Sony Walkman
We have listed a part of advantages of TuneKeep Audio Converter below, you will not be regretful if you choose TuneKeep Audio Converter to help you convert Apple Music songs for listening on your Sony Walkman since it is professional and specially designed for converting Apple Music songs. Please continue reading.
Features & Advantages of TuneKeep Audio Converter
TuneKeep Audio Converter can convert Apple Music songs to MP3, M4A, AIFF, etc. format for offline listening on Sony Walkman
Convert Apple Music songs with 100% original audio quality for users to have a wonderful music experience
16X faster conversion speed can save users' precious time without bored waiting
Users can sort output files by ID3 tags, and rename output files by slash and underline
Retain all ID3 tags like title, artist, album, genre, etc. for users to recognize each song clearly
TuneKeep Audio Converter provides batch conversion that makes users more convenient to convert Apple Music songs
Simple Guide of TuneKeep Audio Converter
Step 1:

Launch TuneKeep Audio Converter

Launch TuneKeep Audio Converter on your computer and the iTunes (Apple Music Application on macOS 10.15) will be launched simultaneously. Soon the program will load all your media files in iTunes library and list them as playlists in the left panel. You can find your target playlist easily.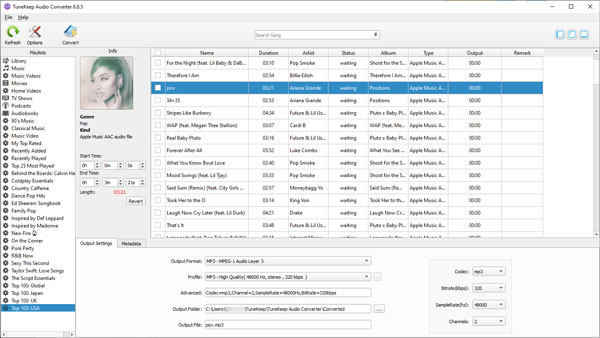 Note: Please do not make any operations like download or stream songs on iTunes and especially do not exit iTunes when converting. Or else, it may cause some error of the program and the conversion will be failed.
Step 2:

Choose Apple Music songs you want to convert

After confirming which songs are needed to be converted, you can click on the playlist and check the checkbox of the songs you want. If you can't see the songs you want, TuneKeep Audio Converter also provides a built-in search box for you to locate specific songs.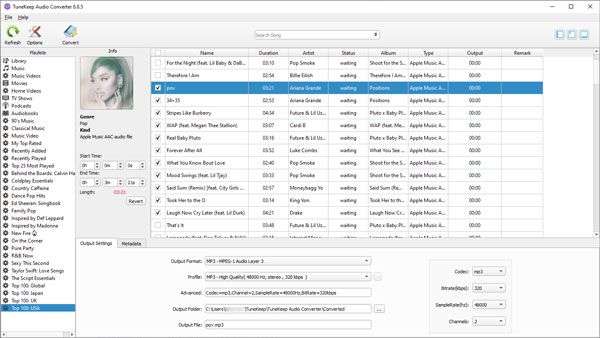 Step 3:

Set output format and conversion settings

You can choose MP3 or M4A as output format, which are compatible with Sony Walkman in the bottom panel, General Settings tab. In this tab, you can also change other parameters like bit-rate and sample-rate.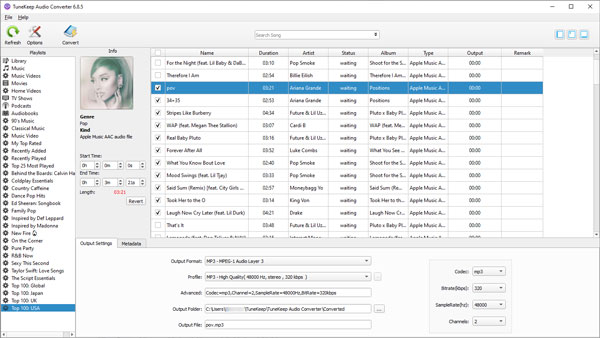 You can see an "Options" button in the top left corner, click on it and you can open the Option window to make change to conversion speed (from 1X to 16X), volume and select a way to sort output files.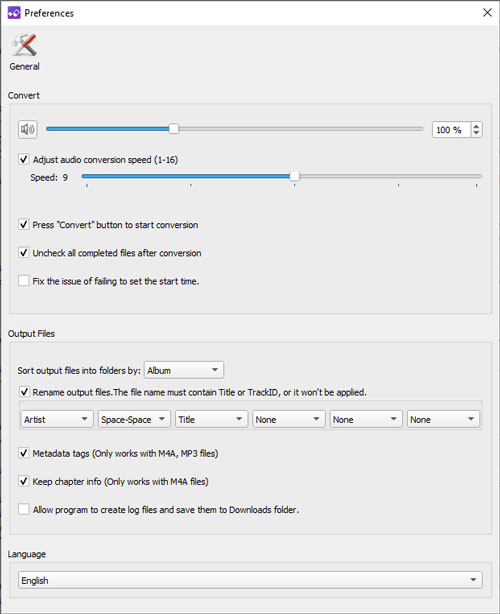 Step 4:

Start conversion

The conversion is ready to be started now. Simply press the "Convert" button to start converting Apple Music songs to plain audio files for Sony Walkman. You can find the converted Apple Music songs by clicking the "Open Output File" button when the conversion is done. After that, you can transfer the output files to your Sony Walkman freely via a USB cable. And then, enjoy yourself with your favorite music and celebrate for the 40th anniversary of Sony Walkman!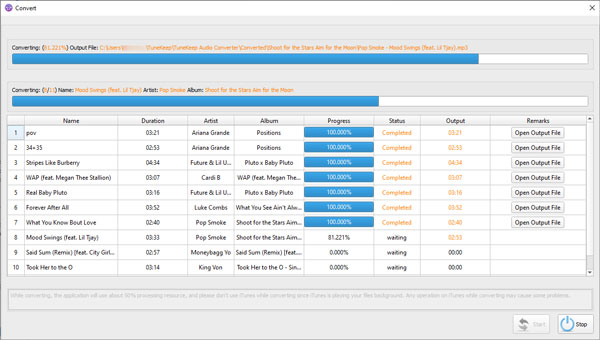 Conclusion
We are so happy to be a part of the 40th anniversary of Sony Walkman, the most important thing is we can help many users of Sony Walkman to listen to Apple Music songs with joy and ease. TuneKeep Audio Converter can really help users who need to convert Apple Music encrypted M4P songs to all-purpose MP3, M4A, AIFF, ACC, AU, AC3, FLAC files in a short time. Click the buttons below now and you can get a loyalty helper and also a professional assistant in your music experience.