Nowadays Spotify is not only the best music streaming service platform in the world, but also one of the biggest online music community since the number of Spotify users has grown to 140 million. Spotify cares about "sharing" between users, maybe this is one of the reasons why Spotify allows users to create their own playlists and recommend many great music playlists created by Spotify itself all the time, users can share the playlists to each other in real life or in the online Spotify Community. For premium users, they can also download the playlists as their "music collections" for offline listening on iPhone, iPad and some Android devices. But what if you want to download all the songs in your playlists for offline listening on Walkman, iPods and MP3 players or want to share them with your friends using a CD with both free and premium accounts? You will need a Spotify playlist downloader, and this article will show you the best one ever: TuneKeep Spotify Music Converter.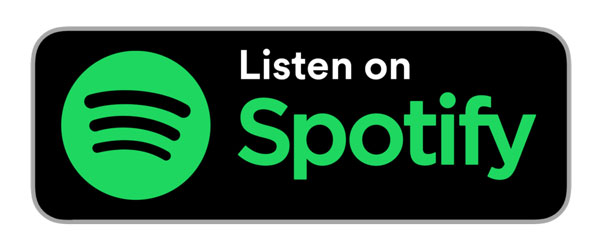 Sharing & Downloading Spotify Playlists
Once you launch Spotify, you will be in the "Home" panel or the "Browse" panel, you can seek for various playlists in both of them. In the "Home" panel, you will find many playlists with the title "Made for You", "The taste of music today", "Popular playlists", etc. and you will be interested in them since Spotify recommends these playlists to you according to your music taste. Differently, in the "Browse" panel, you can choose a genre of music first and many playlists of the same genre will be shown and recommended.
If you are not interested in enjoying the playlists Spotify created, you can also create your own Spotify music playlists. Simply click on the "New Playlist" button at the lower-left corner to create a new playlist of yours and you can add songs in it. In order to let users express their personality, Spotify also allows users to edit details of playlists they create, such as modifying the playlist name, description, and cover art. These detailed features also give users interest in sharing playlists.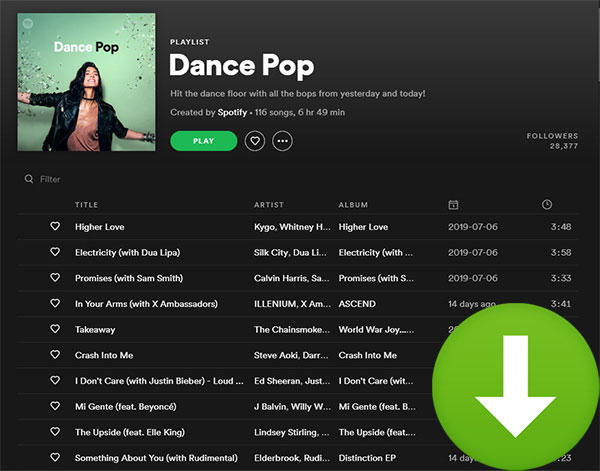 Users can share all the playlists no matter the playlists are created by users themselves or Spotify. You can click to open the playlists, find "…" button in the main panel and click it, choose "Share" and you will find Spotify provides many ways for you to share the playlists. Or, you can simply right-click on a playlist in the left panel to find "Share" selection and share the playlist. When you right-click on a playlist in the left panel, you will also find a "Download" selection. For premium users, they can download the playlists with all the songs in it. But for free users, they can't download any songs from Spotify. Actually, the songs in downloaded playlists are in OGG format, which means they can't be transferred to iPods, Walkman and other MP3 players, and the sharing of your playlists is required for good internet services.
Fortunately, we have a special way for users with a free and premium account to download Spotify playlists and share them with ease, please allow me to introduce to you the best Spotify playlist downloader: TuneKeep Spotify Music Converter.
Best Way to Download Spotify Playlists
TuneKeep Spotify Music Converter can download all Spotify playlists and download all the songs in each playlist as plain MP3, M4A, FLAC, WAV format for offline listening, offline sharing, burning to CDs, transferring to other media playback devices, etc. In general, it is a professional Spotify music converter and the best Spotify playlist downloader. Let's find out what makes TuneKeep Spotify Music Converter be the best.
What's good with TuneKeep Spotify Music Converter
Download Spotify playlists with both Free and Premium account
Download Spotify songs in any playlists with lossless audio quality
Retain ID3 tags in each song after downloading Spotify playlists
Sort downloaded songs by "artist", "album" and "artist/album" in playlists
Rename the output files in bulk by artist, title, hyphen, space, etc.
Perfectly compatible with latest Windows, macOS and Spotify
Simple Guide of TuneKeep Spotify Music Converter
Step 1:

Launch TuneKeep Spotify Music Converter

You can launch TuneKeep Spotify Music Converter and Spotify will also be launched with the program. Spotify is required for the conversion, please do not exit Spotify when the conversion is still in process.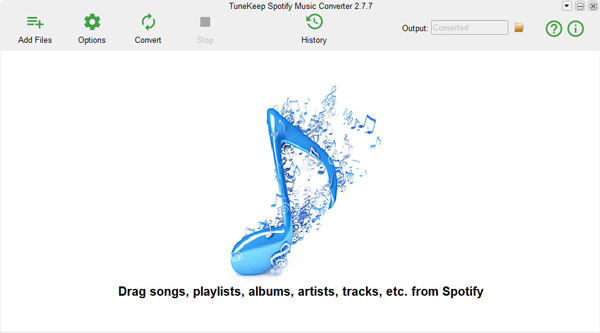 Step 2:

Add Spotify songs, albums or playlists

TuneKeep Spotify Converter provides two ways to add Spotify music to the converter, which are "copy & paste" and "drag & drop".

With the first way, you can right-click on the playlist you want to download, choose "Share" and click "Copy Playlists Link" to copy the link of the playlist. Now go back to the converter and click "Add Files" button, simply paste the link you just copied in the link bar and click "+" button at last to finish.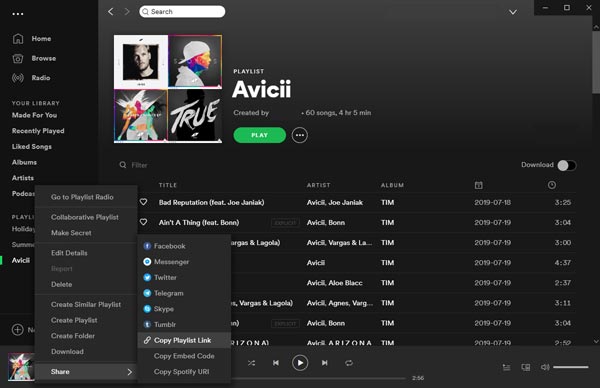 The second way called "drag & drop" needs you to drag a playlist from Spotify and drop it to the converter, which is really simple.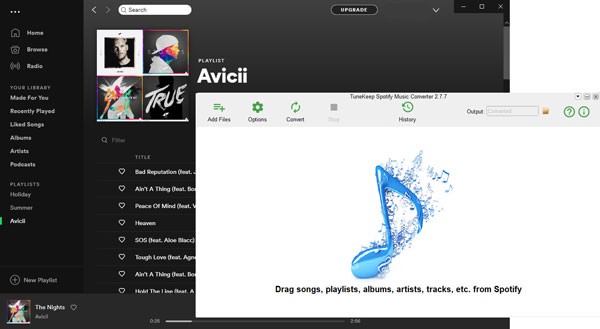 After adding playlists, you may need to choose songs for converting to plain files, you can uncheck the checkbox of the songs if you do not want to convert them.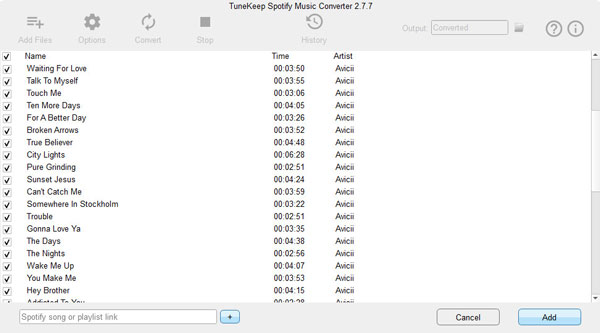 Step 3:

Change Output Format and Settings

There is an "Options" button in the top left corner, you can click it to open the Options window. In this window, you can choose the output format for the songs in playlists, choose the way to sort output files by folder, and make changes to the conversion like volume, conversion speed, etc.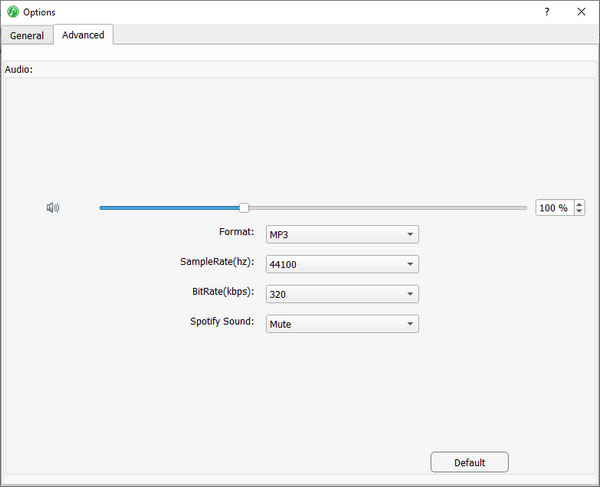 Step 4:

Start to Download Spotify Playlists

Alright, let's wait no more and press the "Start" button to start downloading your favorite Spotify playlists now. After a few seconds (or maybe a few minutes, according to the numbers of songs you added), you will get all the downloaded songs on your computer, if you want to locate them, you can go to the History panel by clicking the "History" button.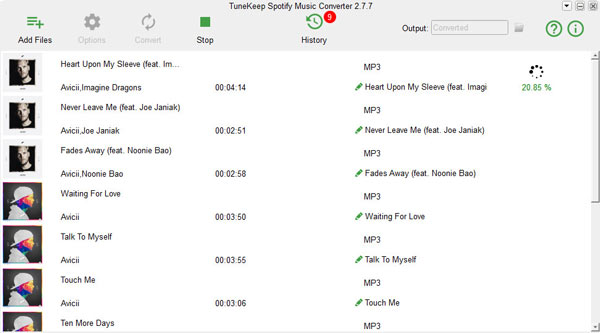 Conclusion
TuneKeep Spotify Music Converter is definitely the best way for users to download Spotify playlists with either Spotify Free or Premium since its professional and great functions. After downloading Spotify playlists, you can easily enjoy your "music collections" on any audio playable devices offline. What's more, you can also burn the playlists to CDs and share them with your friends and family members, which is an old-school but really cool way in sharing music. TuneKeep Spotify Music Converter hopes to give users a better and easier music experience and we hope this article is useful to you.