We use Spotify daily to stream music or listen to music offline after subscribing to Spotify premium and downloading. But on our car audio, Sony Walkman, iPod Nano and other devices, we lost the right to listen to Spotify music because Spotify can't be installed on these devices as well as downloaded encrypted Ogg songs can't be recognized by any of them. In fact, no matter which method you want to use to enjoy Spotify songs on devices offline, recording and converting Spotify music is the most effective method. In this article we will show you the 10 best Spotify music converters.
Top 10 Spotify Music Converters that Worth A Try
We will introduce you the top 10 Spotify music converters one by one. You can combine your own needs and personal preferences to choose the one that suits you best. If you don't care about the cost and just want to find a powerful Spotify Music Converter in a hurry, then as a conclusion, the first recommendation, TuneKeep Spotify Music Converter is the best one because of its easy-to-use interface and powerful Spotify conversion functions for both free and premium users.
1. TuneKeep Spotify Music Converter
TuneKeep Spotify Music Converter can download and save Spotify songs, albums and playlists as all-purpose MP3, M4A, WAV or FLAC files without audio quality loss. It also preserves all ID3 tags like song title, album, artist and artwork. The most important thing is it works with both Spotify Free and Spotify Premium. Besides, it helps you sort the output files into folders by artist, album or artist/album.
It's easy-to-use. You can simply drag and drop songs, albums or playlists from Spotify to Spotify Music Converter, or copy link from Spotify and paste in the link bar in the program, then choose the songs and start conversion. It can batch download Spotify songs as MP3/M4A in only a few clicks. The entire conversion can be done automatically without manual operations.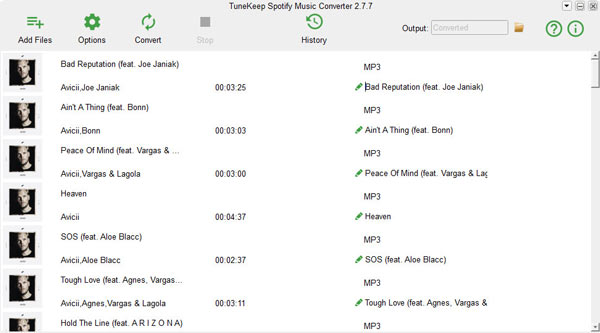 2. AllToMP3
It is a small-size and free software program that can run on Windows, Mac and Linux. It can do what other Spotify music converters cannot, which is download music from not only Spotify, but also from SoundCloud, Deezer and even YouTube. With AllToMP3, you can type in or paste the song name, song URL or playlist URL to download Spotify playlists or songs. The converted Spotify songs are 256 Kbps, which is lower than the 320 Kbps of the Spotify original audio quality. Its biggest disadvantage is that the conversion process is unstable because it needs to grab data from online music libraries before converting.
3. Aktiv MP3 Recorder
As the name of the program says, Aktiv MP3 Recorder is a recorder that can record all kinds of music services, and Spotify is no exception. It supports several output formats, including MP3, WAV, WMA, AU, and AIFF, and it is free. It does not guarantee high quality output, and it has no other function than recording, which means manual button pressing and ID3 tags editing are needed. But if you just want to grab some Spotify music tracks, then Aktiv MP3 Recorder may not be bad.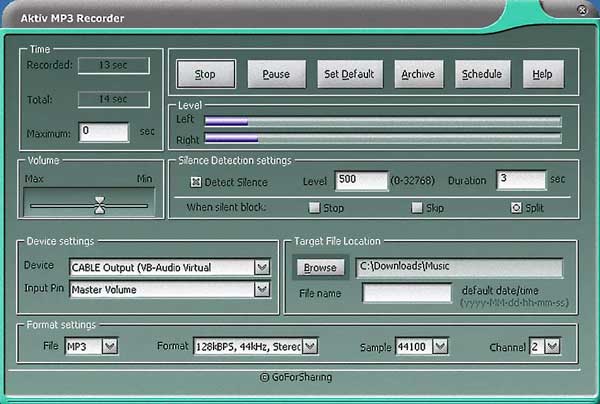 4. Fildo
Fildo is a small but effective converter. It was originally only an Android application and was used to convert Spotify music on Android devices, but it also now has a Windows version. Its function is only to convert Spotify music to plain format with ordinary audio quality. Its advantage is that it supports Android. Users who do not want to convert Spotify music on computer and have an Android device can have a try.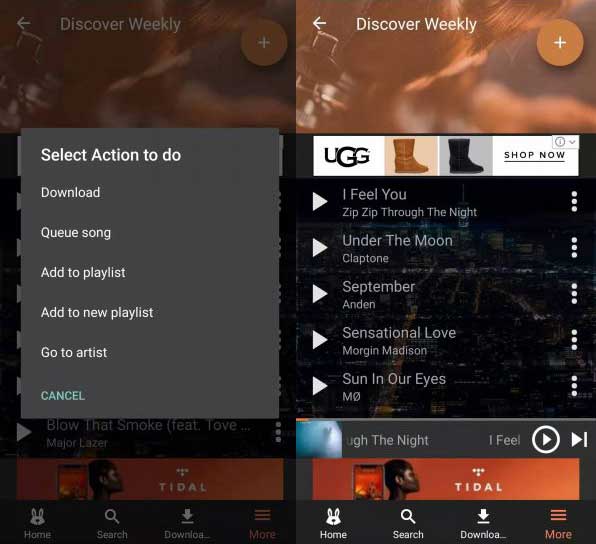 5. Spotify & Deezer Music Downloader
Spotify & Deezer Music Downloader is a beloved Google Chrome extension. It allows users to download songs, albums and playlists from Spotify web player and Deezer web player. After installing this extension on Chrome, you can see a download button at the right of each song on Spotify web player interface. When it downloads songs, it accesses multiple online MP3 libraries instead of Spotify music library, which means that only some songs can be downloaded if a song in free library can match with a song in Spotify. When a song can't be matched, you will see an error button, and you may encounter this problem a lot. But as a free Google Chrome extension, it occupies little computer resources and does not need to download and install any software, which is a good choice for users who want to keep their computers tidy.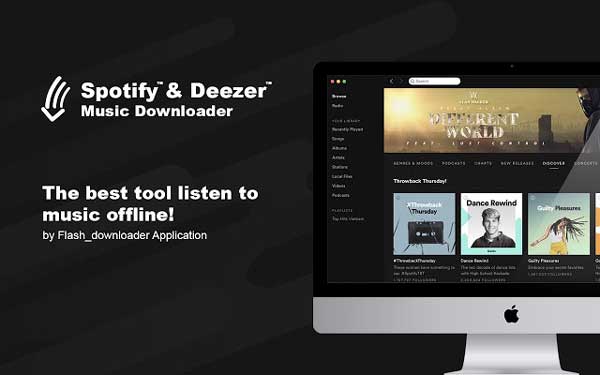 6. Spotify to MP3 New
Spotify to MP3 New is actually a shortcut of the Siri Shortcuts app. It allows users of iPhone to download songs and playlists from Spotify to MP3. You can go to App Store and install the Shortcuts app, then you can find and download the shortcut named Spotify to MP3 New. It works with the Spotify app since it need a song link or a playlist link for the conversion. Users who want to convert Spotify music to MP3 with iPhone can try this one.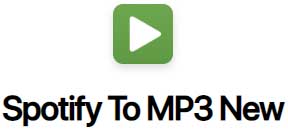 7. Spytify
Spytify is also a free Spotify to MP3 converter that can convert Spotify music from only the Windows 10 Spotify desktop app, macOS is not supported. It can provide Spotify to MP3 conversion with normal level audio quality kept in the converted Spotify music. Similarly, it is sufficient for users who only need to get Spotify music in MP3 format. But if you want better audio quality, then Spytify may not satisfy you. The advantage of Spotify is that the interface is simple and it is easy-to-operate.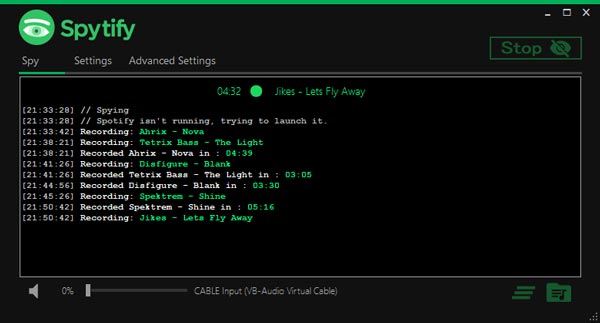 8. Leawo Music Recorder
Leawo Music Recorder is a great desktop-based music recorder that can record any sound from Microphone and/or sound card on your computer, that is to say, Spotify is also included. It allows people to schedule music recording by setting the recording start time and recording duration and manage recordings in media library. It can grab music information from online music database and keep artist, album, cover, song title and other information in the output files. However, only a few songs can be recognized. You can set silence time to split two songs when recording, however, it's not accurate. So manual start/stop operation and ID3 tags editing may be necessary which may make you frustrated.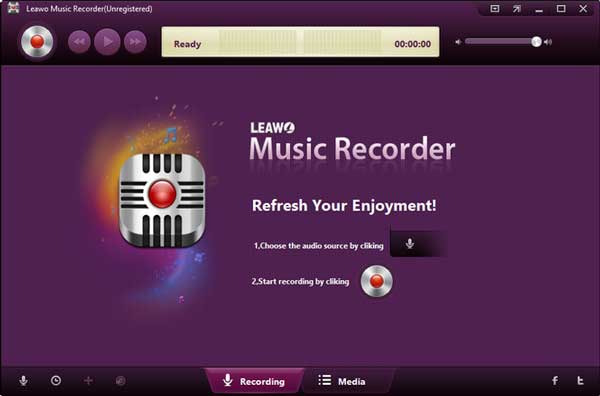 9. Free Sound Recorder
Free Sound Recorder is a recorder that can capture any sound played by your computer. It is free and it supports recording online music streaming services such as Spotify. Users can get Spotify music in plain MP3, OGG, WAV and WMA format and add effects like echo and vibrato to the output files. Its interface looks a bit complicated, but it is actually convenient to use in practice. It has full functions and good conversion quality. The disadvantage is that you need to record manually, which is disappointing.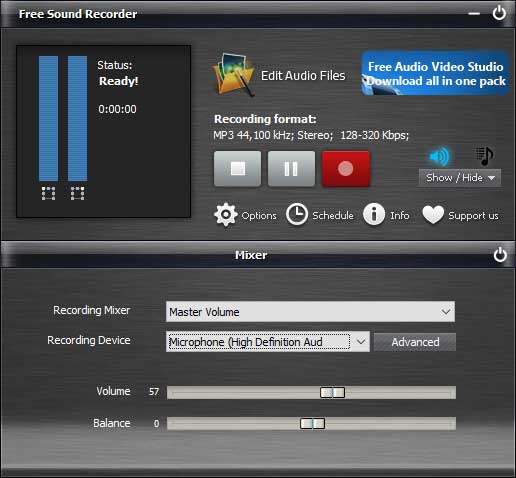 10. Spotify Recorder
Spotify Recorder is created to save songs from Spotify for playing them on mp3 player or on the car stereo. It records the Spotify tracks directly from the soundcard and adds the track and artist information. No Spotify Premium account is required and this program is completely free. Its disadvantage is that it also requires manual recording, but it allows users to select the bit rate of the output file and set the output folder.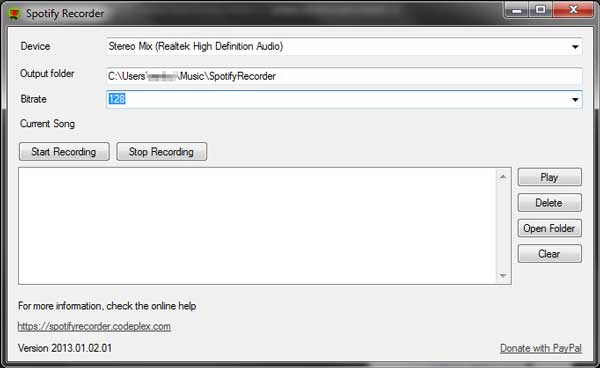 Best Spotify Music Converter - TuneKeep Spotify Music Converter
After learning so many Spotify music converters at once, you probably haven't decided which one to choose for converting your Spotify music. As a conclusion, TuneKeep Spotify Music Converter we introduced above is the most professional and popular Spotify music converter. We will show you all of its detailed benefits and main features, we believe that this must-have Spotify music converter can definitely help all Spotify users.
Why TuneKeep Spotify Music Converter is the Best
Convert any Spotify songs, albums and playlists to plain formats such as MP3, M4A, WAV, FLAC.
Reserve 100% original audio quality in the output files with free and premium Spotify account
Fully keep all the ID3 tags like title, artist, album, genre, etc. in each converted Spotify music
Rename the output files in bulk by artist, title, hyphen, space, etc.
Sort output songs by "artist", "album" and "artist/album" for better storing and distinguishing
Perfectly compatible with the latest Windows OS and macOS, the latest version of Spotify is supported
How to Use TuneKeep Spotify Music Converter
Step 1:

Launch TuneKeep Spotify Music Converter

You can launch TuneKeep Spotify Music Converter on your computer immediately after finishing the installation. Please notice that Spotify desktop is needed for the conversion, so it will also get launched, remember not to close it until the conversion is finished.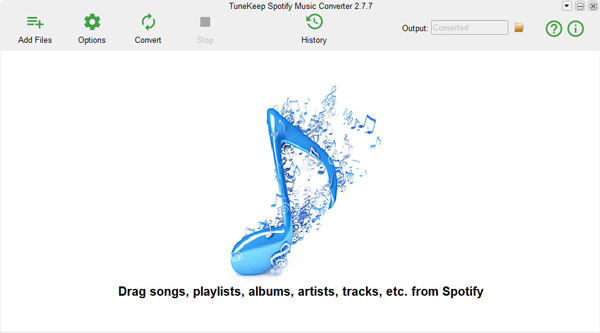 Step 2:

Add Spotify Music to the Converter

Once after the launch, please click the "Add Files" button from the top-left corner. You can go to Spotify to copy the song link, album link or the playlist link, and then paste the link in the bottom link bar of TuneKeep Spotify Music Converter. Or you can drag the Spotify songs, albums or playlists that you want to convert from Spotify and drop them into the converter.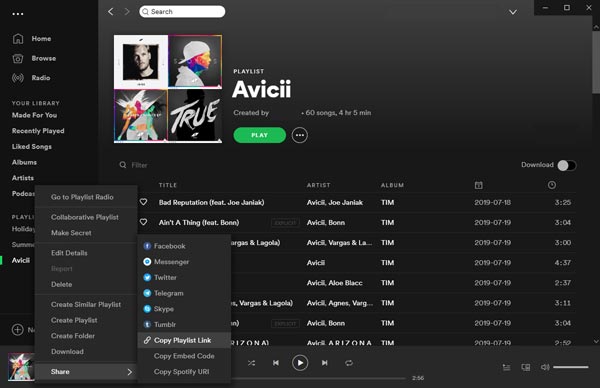 You will see all the songs are listed and checked in the main panel now. If there are some songs that you don't want to convert, you can uncheck the checkboxes of them. Click "Add" button after making your decision.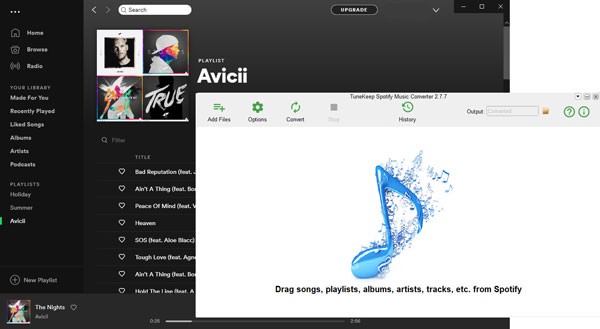 Step 3:

Setting for the Conversion & Output Files

You can click the "Options" button in the top left corner to open the Options window, where you can set conversion speed, select output folder and output format, adjust volume and make other settings. Bit rate and Sample rate are also allowed to change.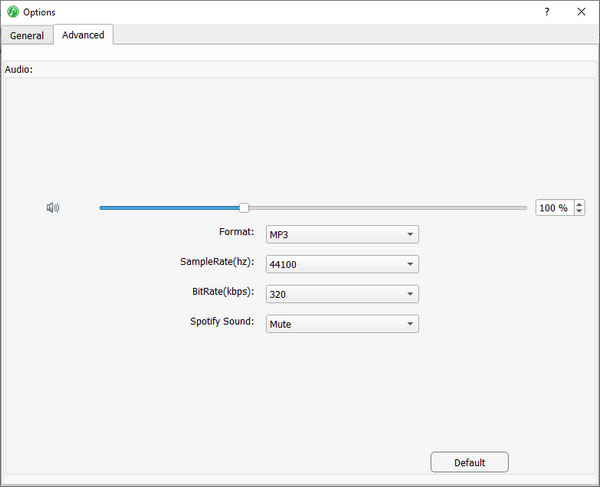 Step 4:

Start Converting Spotify Music

Just simply press the "Convert" button in the top left corner to start the conversion. Before that, please make sure you have set everything up as you want. You can get the converted Spotify songs in the History panel after conversion, click "History" button to open it.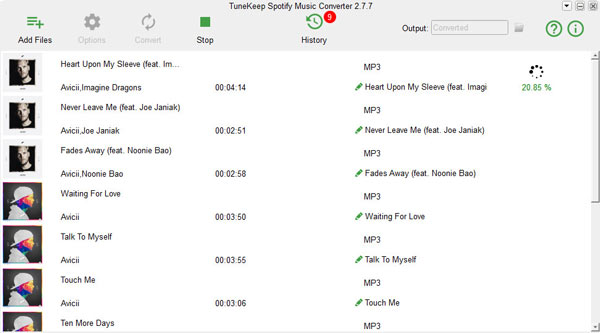 Conclusion
After discovering many other free or paid Spotify converters in the market, we have specially selected the top 10 of them for you. We hope that you can find the one that suits you best from the recommendations in this article. If you have not made a choice, or are still considering which one to choose, then our suggestion is to download TuneKeep Spotify Music Converter and try it out. The trial version can also make the conversion, but it will limit you to convert only the first three minutes of each Spotify song. We believe that the humanized design and comprehensive features of TuneKeep Spotify Music Converter will let you choose it at the end.