If you haven't tried Apple Music yet, it will be a good time to try it out. Apple Music now offers new users a three-month free trial, and during the trial period, users will be able to enjoy the same services like Apple Music subscribers. In fact, Apple has been providing this offer for quite a long time. Now, with the help of TuneKeep, you will get even more amazing results than the free trial of Apple Music. Come read this article to learn how this converter allows you to keep your tracks after the Apple Music free trial period.

Know about Apple Music's Three-Month Free Trial
We all know that since mid-2015, Apple Music has offered a three-month free trial for every new user. After the implementation of this policy, Apple Music attracted a large number of users, and many of these attracted users have been using Apple Music to listen to music until now. Thanks to this preferential policy, Apple continues to attract new users to try out Apple music every year, and we have to say that this is a very smart and successful decision.
During the three-month trial period, you will be able to enjoy the same services as Apple Music subscribers enjoy. You can access the full Apple Music library, recommendations and radio stations or download Apple Music tracks to your iTunes-matched device. However, after three months, if you want to continue listening to the Apple Music tracks you downloaded without any subscriptions, it is impossible, even the tracks are downloaded. These downloaded tracks are usually M4P files, and they are all encrypted by Apple Music. When your free trial expires and you don't want to pay for any Apple Music subscription, you will lose access to Apple Music library, recommendations and radio stations and those downloaded tracks will disappear from your iTunes library.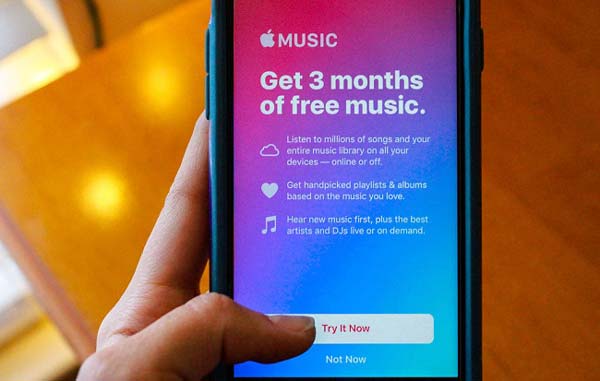 If you really have some favorite tracks and you want to keep listening to them on Apple Music, you also have two options to help you continue enjoying them after the three-month free trial. The first method is to purchase the tracks you want on iTunes Store directly so that you can really own the tracks and be able to enjoy them on different devices, but here comes another problem, not every track on Apple Music can be found on iTunes Store. Another key fact to remember, buying all the tracks you like could cost a lot of money. The second method is not that expensive relatively, you can simply pay for an Apple Music subscription. Apple Music provides several kinds of subscription plans for users, which are $9.99 for a 1-month individual subscription, $14.99 for a 1-month family subscription and a 1-year individual subscription costs $99.
We believe that you will not only use Apple Music to listen to your favorite tracks for two or three months. Yet, if you only need to experience Apple Music during the 3-month free trial period, do not forget to cancel your Apple Music subscription using the device on which you start your free trial or another device, as long as you're signed in with the same Apple ID. However, most people will choose to subscribe to Apple Music all the time, and may even continue to subscribe for several years. The cost incurred during this period can be imagined. We are afraid this is exactly the opposite of what many users originally chose to use Apple Music free trial. Accordingly, do we have anything that can help us to keep our favorite Apple Music tracks after the three-month free trial period? Fortunately, we do have a way to achieve this. Now it is time to introduce a good helper to our music enjoyment: TuneKeep Audio Converter. Well, if you are going to cancel your Apple Music subscription after the free trial, please remember to complete the conversion of the tracks you want to convert before the expiration of the free trial period.
How Can Users Save Their Tracks after Free Trial?
TuneKeep Audio Converter is a powerful and useful converter that can help users to keep Apple Music tracks after their three-months free trial, which means users do not need any subscription to Apple Music or any purchasing to keep their Apple Music tracks.
Let's take a look at the advantages of TuneKeep Audio Converter, which will give us a better understanding of this practical program.
Features & Advantages of TuneKeep Audio Converter
Convert every Apple Music tracks from encrypted M4P format to plain formats like MP3, M4A, etc.
The audio quality of converted tracks are as same as the audio quality of original tracks
Every ID3 tag including title, album, artist, track number, genre, artwork, etc. will be automatically kept after conversion
Convert with 16X faster conversion speed, save your time for music enjoyment
Flexibly sort and rename output files by ID3 tags and special characters such as slash and underline
Batch conversion function helps you convert a large amount of Apple Music tracks at one time
The functions of TuneKeep Audio Converter are extremely powerful while the operations of it are simple. Read the guide of TuneKeep Audio Converter and you will not be disappointed with its easy-to-understand operations.
How to Use TuneKeep Audio Converter
Step 1:

Launch TuneKeep Audio Converter

Simply launch TuneKeep Audio Converter just like you launch other programs, remember that iTunes (other versions of macOS) or Apple Music Application (macOS 10.15) will also get launched automatically with the converter. You will see the main interface with a left panel and a bottom panel once you launch it, please note that all the media files in your iTunes library will be listed as playlists in the left panel.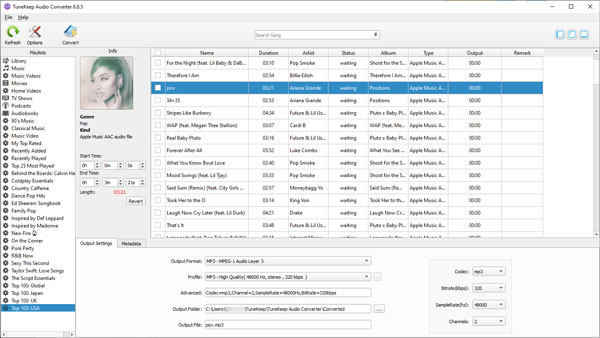 Note: Please do not download and stream songs on iTunes or other music streaming services platform. Moreover, please keep iTunes running when conversion is in process. If not, the program and the conversion may crash and fail.
Step 2:

Choose the Apple Music tracks you want to keep after free trial

You can easily find your wanted Apple Music tracks in the left panel or you can use the built-in search box to locate tracks by song titles, artists or albums. Once you have decided which tracks are the ones you want to keep after the 3-month free trial, just tick the checkbox.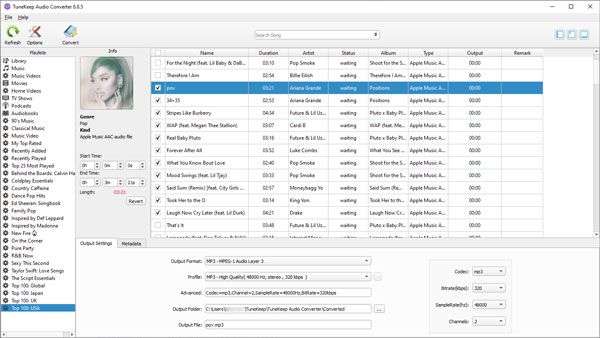 Step 3:

Set output format, metadata and conversion options

The bottom panel is where you can set output format and metadata. In the Output Settings tab, you can choose output format, audio quality and other parameters like bit rate, Sample Rate, etc. for the output files. And in the Metadata tab, you can edit ID-3 tags of the tracks, generally speaking, all the metadata will be kept by default.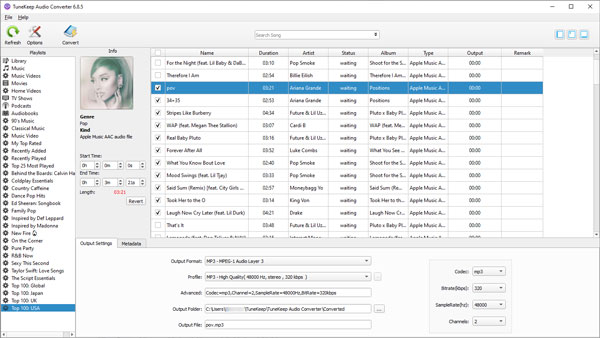 There is an "Options" button at the top left corner of the program, you can click it to make changes on the converter and conversion.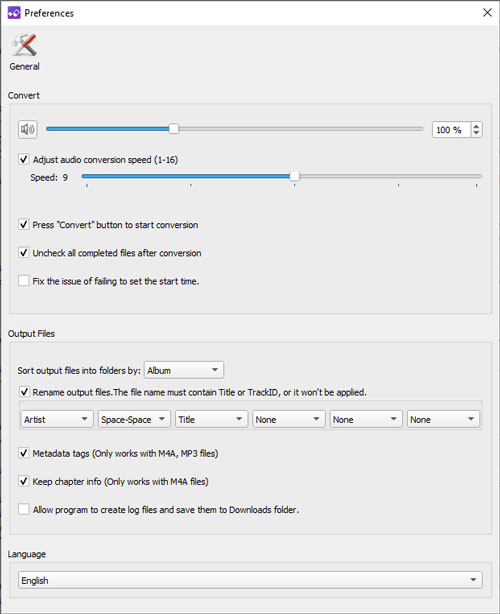 Step 4:

Start converting Apple Music tracks

When everything is prepared, you just need to click the "Convert" button and the conversion will be started. It's easy to understand that the more tracks you chose, the longer waiting time you will spend, but with 16X faster conversion speed that TuneKeep Audio Converter provides, the whole conversion will not take you too long to get your output files.

If you want to locate tracks or remove your conversion records or converted files, you can simply do that by clicking the "History" button after conversion.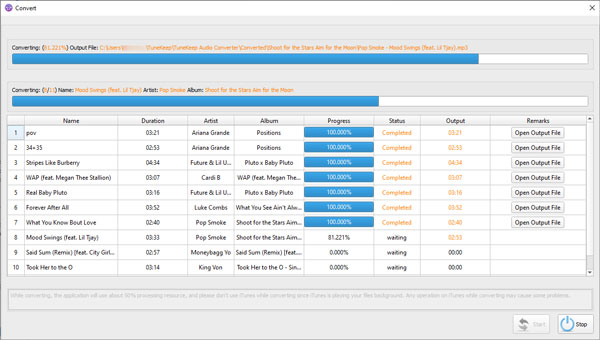 Conclusion
With the help of TuneKeep Audio Converter, whether you've already started enjoying the three-month free trial of Apple Music, from now on you can keep your Apple Music tracks forever after the free trial. We believe this is also the result that users want after reading this article. I hope that this practical and effective method can really help readers and users who need to keep the tracks after Apple Music's three-month free trial period. If you think this method worth a try, click the download button below and give it a try now.