It's been over ten years since Samsung launched its first smart TV. In the past decade, many electronic product brands launched smart TVs and entered the market of smart TVs while Samsung has always been the leader of smart TV manufacturers. The continuous innovation of technologies and excellent product quality are the reasons why Samsung smart TV is the best smart TV brand in the world.
Samsung Smart TV can't Play iTunes M4V Videos
With Samsung Smart TVs, we can access to a world of content beyond live TV channels, which means we can use applications, stream, browse and even play video games – all on a super immersive Samsung smart TV. What most users of Samsung smart TVs use are video streaming apps like Netflix, YouTube, TED, Amazon Video and Hulu. People can stream abundant videos with these apps for free or pay for subscriptions to enjoy more wonderful services and TV shows. Although Samsung smart TV has been so powerful and advanced, there are still some videos that we want to watch on Samsung smart TV but we can't. What we are talking about are movies, TV shows and music videos on iTunes, also known as iTunes M4V videos.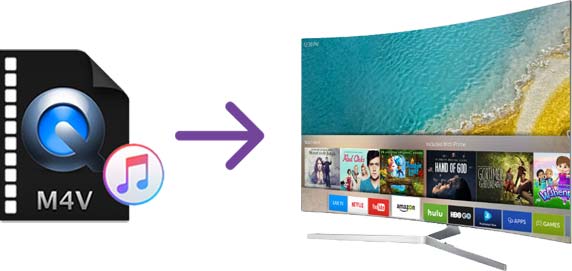 As we all know, iTunes videos including music videos, TV shows and movies, are not allowed to be played on many versions of Samsung smart TVs. But iTunes owns plenty of wonderful movies and TV shows and a lot of users of Samsung smart TV have purchased iTunes videos, so, it is natural that users are hoping to play their favorite purchased iTunes videos on Samsung smart TV. Indeed, combining two products that are top-notch in their respective industries will certainly deliver an extremely excellent audio-visual enjoyment. Even though Apple has released the redesign Apple TV application, which can be searched and installed on the newest Samsung smart TV, there are still many versions of Samsung smart TV does not support this new Apple TV application. We have to admit, the idea of playing iTunes M4V videos on Samsung smart TVs seems to be only a good vision under Apple's encryption technology for most M4V videos on iTunes.
Is this really the case? Are we going to be forever banned from playing those wonderful iTunes' movies, TV shows and music videos on Samsung smart TV? We used to be helpless on this until the release of TuneKeep M4V Converter. With TuneKeep M4V Converter, you can transfer all your purchased iTunes M4V videos to MP4, therefore, you are free to play those videos on Samsung smart TVs. Please continue reading and learn the advantages of TuneKeep M4V Converter and how can it help users to play iTunes M4V videos on Samsung smart TV.
Fix the Problem with TuneKeep M4V Converter
We have listed parts of the great features that TuneKeep M4V Converter has at below, you will soon find out how TuneKeep M4V Converter can help to fix the problem we were talking about.
Functions of TuneKeep M4V Converter
Convert all your purchased M4V movies, TV shows and music videos from iTunes Store to plain MP4 format
Same video quality as the original videos will be fully kept after the M4V to MP4 conversion
All the tracks including original Dolby 5.1, closed captioning, multilingual subtitles, etc. will be reserved
Convert any purchased iTunes M4V videos with 30X faster conversion speed, get 1080P iTunes movies within 20 minutes.
Perfectly break Apple's encryption technology with special decryption abilities
Succinct guide of TuneKeep M4V Converter
Step 1:

Launch TuneKeep M4V Converter

When TuneKeep M4V Converter is launched, iTunes will also be launched at the same time (on both Windows and Mac). iTunes is needed before the conversion is finished, so please do not close iTunes when TuneKeep M4V Converter is still running.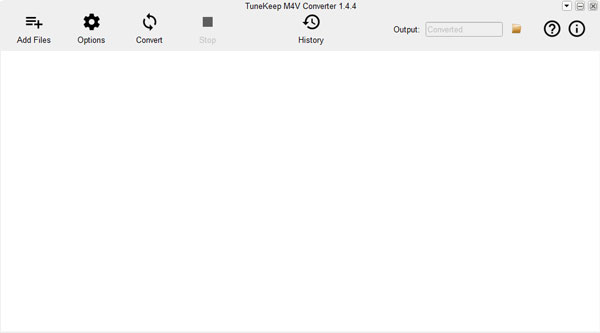 Step 2:

Add your wanted M4V video

You will need to click "Add Files" button first and the media files in your iTunes library will be shown in the left panel of the converter, please find the ones you want to convert and select it. If you can't find a video, you can use the built-in search box the locate it. After selecting them, please simply press the "Add" button to add them to the converter. Besides, if you want to convert all the video in a playlist, you can click the "Add All" button, which is designed for this situation.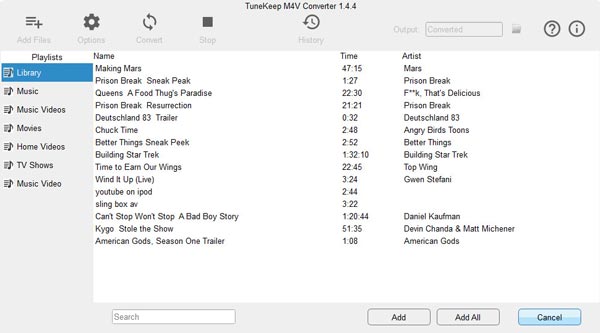 Step 3:

Choose subtitles and tracks

TuneKeep M4V Converter will automatically keep all the tracks like subtitles, audio tracks, closed captioning, audio descriptions, etc. You can also uncheck the tracks if you do not want to keep all of them after clicking the setting button. There is an "Option" button in the top left corner, you can click it to open the Options window and select an output folder.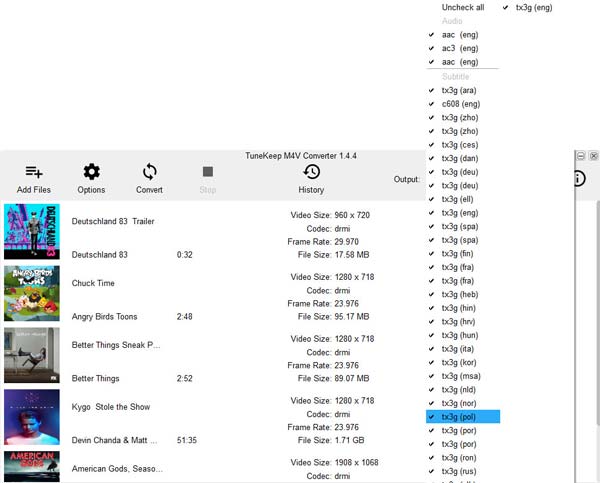 Step 4:

Start M4V the conversion

When everything is set up, you can click the "Convert" button to start converting M4V videos to MP4. It may take you a few minutes if you convert a long video, but with the 30X conversion speed, all the conversion processes will not take long.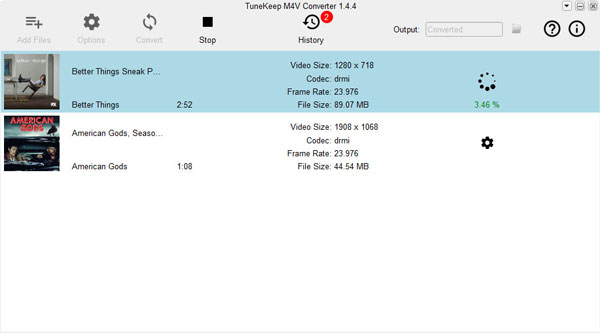 After conversion, you can easily find the output files by clicking the "History" button. What's more, you can remove conversion record and output files in the History panel.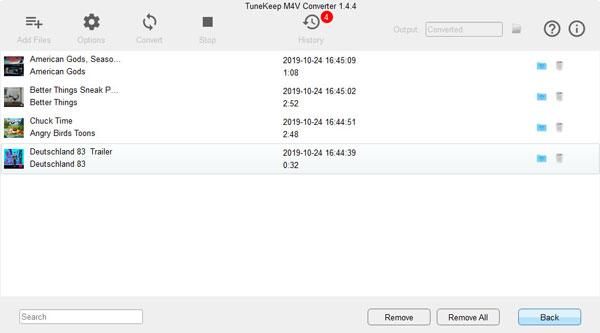 Step 5:

Play converted videos on Samsung smart TVs

Since Samsung smart TVs can read USB flash drives, you can transfer the converted videos to your USB first and simply plug in the USB flash drive. You may need to choose to play local source media files on Samsung smart TV and then locate the converted videos (which is in the USB flash drive), at last, please feel free to start playing them.
Conclusion
From 2008 to 2019, Samsung has never stopped designing and producing smart TVs, and the facts prove that Samsung does have the ability to lead the world in this industry. It's just a shame that we can't play iTunes movies, TV shows and music videos directly on Samsung Smart TV. But TuneKeep M4V Converter has helped us solve this problem perfectly. Many users have also chosen this method to play iTunes M4V video on their Samsung Smart TV. This may be because TuneKeep M4V Converter also has the same persistence and professionalism as Samsung.