Spotify, the most popular online music streaming service in the world, with over 217 million of users. As we all know, users can enjoy Spotify tracks with Free or Premium account, but both Free and Premium Spotify users are not allowed to burn any Spotify tracks to an audio CD because of Spotify has encrypted all their tracks. Premium users can download Spotify tracks for offline listening, but they can never burn those downloaded tracks to CD directly. There are a huge number of Spotify users and enthusiasts who prefer to burn their Spotify tracks to CDs. Actually, a simple conversion can help users to burn Spotify tracks to CDs, you only need to convert Spotify tracks from encrypted files to plain MP3, M4A, FLAC, WAV format.
CD Still Plays an Important Role in Music Enjoyment
There are still certain audiences who would rather listen to music on CD players than on online streaming platforms like Spotify or Apple Music. You can argue that this may be because these audiences are less tech-savvy than the mainstream, but the fact of the matter is these audiences who love to burn Spotify music to CDs for different experiences, they do exist, some of them may just enjoy listening music through a CD player, there are still so many old school audiences like this. If you're one of the users who need or love to enjoy your Spotify tracks on CD players, you will know that feeling.
After the online music streaming service appeared, the sales of audio CDs were shocked, but the sales of music CDs around the world is still huge. This shows that there are still a lot of people who are still obsessed with listening to their favorite music on the CD. What's more, some Spotify music enthusiastic, or just normal Spotify users, would like to burn their favorite Spotify music to CDs and give it to their friends, children or parents as gifts. It is a classic and amazing way to share Spotify music and happiness with others. Speaking of classic, playing Spotify music from a CD with a car CD player is also an unparalleled and classical music experience. Now we guess you've known the importance of burning Spotify tracks, albums and playlist to CDs.

Alright, let's talk about this "can't burn Spotify tracks to CDs" situation, obviously, none of Spotify users can directly burn any Spotify track to a CD. Some Spotify Premium subscribers may ask: "I can download them to my device, why can't I just burn the downloaded Spotify tracks to CDs?" Simple answer to this question, all the Spotify tracks, albums and playlists are encrypted by Spotify itself. This encryption limits you to move them to other devices or burn them to CDs.
But nowadays, to get over this encryption, you can use a converter to convert your Spotify tracks from encrypted files to plain MP3, M4A, FLAC, WAV format, once they are converted, they can be burned to CDs at any time. To achieve this, you only need TuneKeep Spotify Music Converter.
Why Should We Try TuneKeep Spotify Music Converter?
Since it is not easy to find an available way to help users to burn Spotify tracks to CDs, we will recommend the best one to you. So, we give you TuneKeep Spotify Music Converter, the best choice you should try. Well, let's see exactly what's good with Spotify Music Converter.
Try TuneKeep Spotify Music Converter for These Reasons
Retain all ID3 tags like song title, album, artist, track number, disc number, etc. in output files
Get lossless audio file with 100% original audio quality after conversion
No matter Spotify Free or Premium account are fully supported and available
Sort output files into folders and rename the output files in bulk
Help free subscribers enjoy Spotify songs on more than 5 devices
Users can sort output files in one or two clicks by the program instead of sort manually
Burn Spotify Tracks to CDs in 5 Simple Steps
Step 1:

Launch TuneKeep Spotify Music Converter

After downloading and installation, please launch TuneKeep Spotify Music Converter on your computer. When you launch it, the Spotify will also get launched with the converter, please note that. It may take a few seconds to load the program if it is your first time launching it, soon you will see the main interface of TuneKeep Spotify Music Converter.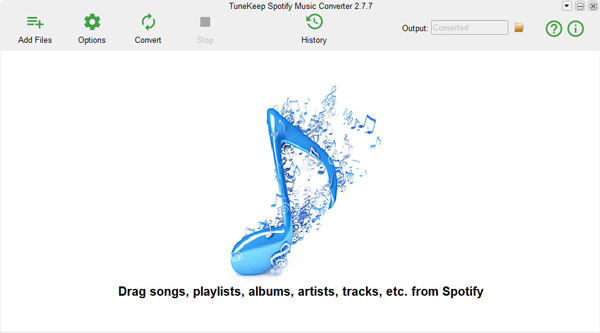 Step 2:

Add Spotify tracks, albums or playlists to the converter

You will need to add your favorite Spotify tracks from Spotify to the converter before converting them. Luckily, Spotify Music Converter provides two ways for users to add their wanted tracks.

You can directly drag songs, albums or playlists from the Spotify interface, which is quite easy, and then just drop them into the converter, which is also easy as pie. So, this is the first way to add tracks.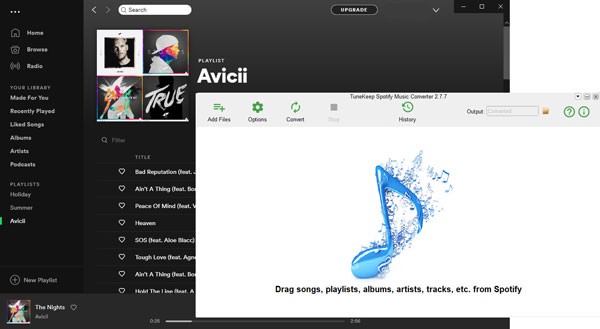 Or you can choose to copy links of Spotify tracks, albums or playlists by right click on them, select "Share", then click "Copy Song/Album/Playlist Link", and now go back to Spotify Music Converter and click "Add Files" button, then paste the link you just copied in the link bar at the bottom. At last, press "+" button to add them.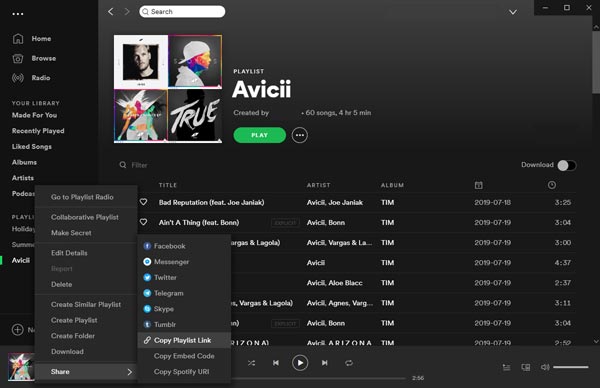 Step 3:

Select a suitable output format

There are four output formats are provided by Spotify Music Converter, which are MP3, M4A, WAV and FLAC, and they are all available to be burned to CDs, so you can set output files as each of these four formats. Click "Options" button to open the options window and you can set the output format and make changes to the options.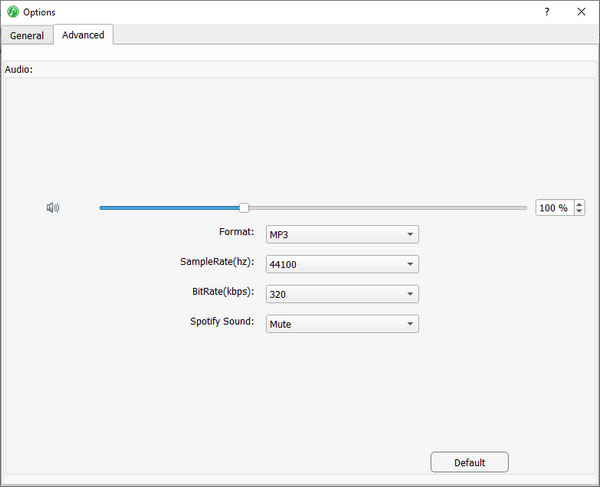 Step 4:

Start converting Spotify tracks

Now we can almost complete the conversion, please click Convert button and the conversion will be started immediately. After a short time of waiting, you will find all the Spotify tracks you added are converted and saved in the output folder. You can click the History button to find conversion records and locate output files.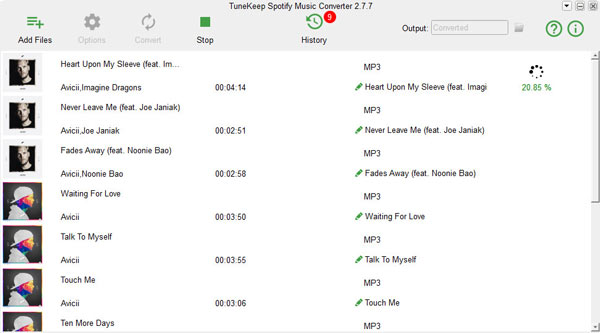 Step 5:

Burn converted Spotify music to a CD

Now all you need is a CD burner and a blank CD. Here we recommend to you several free CD burners: Express Burn, Deep Burner Free, Ashampoo Burning Studio Free, Free Audio CD Burner and CDBurnerXP.

It's simple to burn converted Spotify tracks to a blank CD. For example, with CDBurnerXP, you can launch the program and choose "Audio disc" mode in the pop-up dialog, and then browse to the output folder which saves your converted Spotify tracks, choose those ones you want and click "Add" button to add them in the burning list. Now please insert a blank CD, or you may have inserted one earlier, and then click "Burn" button to start burning.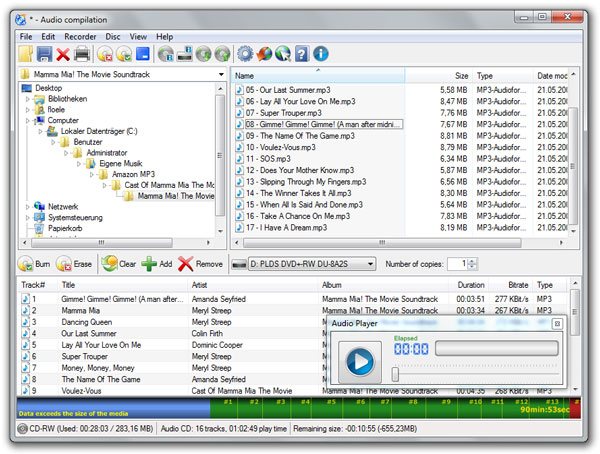 When everything is complete, your loved Spotify tracks are now burned to the CD, and it's all free to be played on any CD players.
Conclusion
It's amazing, right? Making an "almost-impossible" thing becomes true. We have to admit that burning songs to Audio CDs is classic and should not be forgotten. Yet, the appearance of online music streaming services is really a big shock to this old-school music enjoyment. But fortunately, people still love to enjoy music in this way, and you know what, the more fortunate thing is TuneKeep Spotify Music Converter makes burning Spotify tracks to CDs a piece of cake. So, why not just download this wonderful Converter and have a try now?