Nowadays, listening to music with Spotify has become a very common thing in our daily lives. Spotify attracts a large number of users and subscribers because of its simple and straightforward interface and excellent music playback capabilities whether on the computer or mobile devices. There are 220 million monthly active users of Spotify in 2019, which means Spotify is actually the most famous and popular music streaming service on this planet. However, nothing is perfect, as the number of Spotify users increases, different problems are coming with it. For some reason, Spotify has encrypted all the songs they have. If users want to enjoy Spotify music on multiple devices or use Spotify music for other purpose, they will need to convert Spotify songs to M4A first. For this, Spotify users will need a professional Spotify music converter called TuneKeep Spotify Music Converter to help.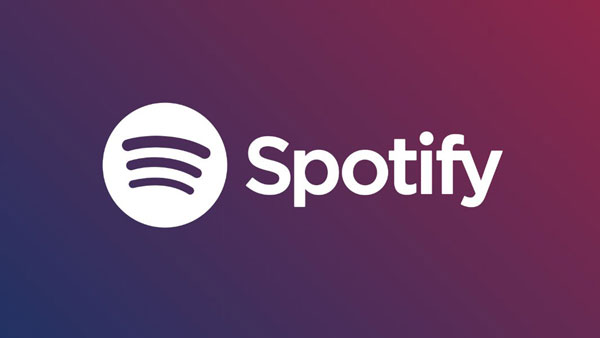 Our Downloaded Spotify Songs Are Restricted
Although Spotify is now being known as "the greatest music streaming service", it doesn't mean Spotify is perfect. Conversely, the increase in the number of users brought to Spotify is more negative feedback and complaints. It is always the case that Spotify restricts users from using the songs they have downloaded. Now that the number of Spotify users has grown and Spotify has to face this problem. Unfortunately, Spotify has not fixed this problem until now, which prompted users to start looking for other ways to help solve it.
Many Spotify subscribers have reported that they can't listen to Spotify songs on other devices like iPod Nano, iPod Shuffle, Sony Walkman, etc., and some subscribers have also reported that the downloaded Spotify songs are not available for use in video editing software. It is actually normal because Spotify songs are all in OGG format, which has been encrypted by Spotify itself. Most audio playback devices cannot recognize such encrypted files, the same problem happens in various common video editing software such as Adobe Premiere, Adobe After Effects, iMovie, Final Cut X, etc. This issue is frustrating for all Spotify Premium subscribers, for other users, they also want to find a way to download their Spotify songs for offline listening or other purposes wit their Spotify Free account.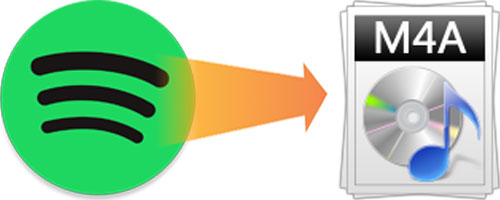 So, will there be some reliable ways for all Spotify users to achieve their purposes? We think downloading Spotify songs as M4A would be the correct method. Some may ask that many formats can be recognized and play on most devices, why choose M4A? The most common audio formats are MP3 and M4A now, AIFF and AAC are also popular. Here we use MP3 as an example. Generally speaking, compared to MP3 files, the quality of M4A files is better while the size of M4A files is smaller. Therefore, users can get better music enjoyment and store more Spotify songs in their devices like flash drives or CDs when they choose to download Spotify songs as M4A. So, converting Spotify songs from encrypted OGG to plain M4A is the best way to solve the problems we mentioned above. For that, we highly recommend that you should use TuneKeep Spotify Music Converter, which is developed to download and convert Spotify songs for multiple purposes of Spotify users with Free and Premium accounts.
Get Spotify Songs in M4A and Unrestricted Enjoyment with TuneKeep Spotify Music
TuneKeep Spotify Music Converter is the best software to save users from being limited by Spotify when they listen to Spotify songs. It's professionality, flexibility and great conversion efficiency make TuneKeep Spotify Music Converter is popular and useful. Let's see the advantages of TuneKeep Spotify Music Converter, we have listed them for you below.
What's good with TuneKeep Spotify Music Converter
Convert Spotify songs in plain M4A with 100% same audio quality as the original files
After conversion, it will retain all the ID3 tags like title, genre, artist, album, etc. of each Spotify songs in the output files
Sort output files easily with artist, album & artist/album in a few clicks
Rename output files in bulk by album, artist, track number, hyphen, space, etc.
Support Spotify Free and Premium accounts on both macOS and Windows
Break 5 devices limitations of Spotify for enjoying on infinity devices
How to Use TuneKeep Spotify Music Converter with Ease
Step 1:

Launch TuneKeep Spotify Music Converter

When you launch TuneKeep Spotify Music Converter, Spotify will also be launched since Spotify is required during the conversion. So, please do not exit Spotify when the conversion is in process.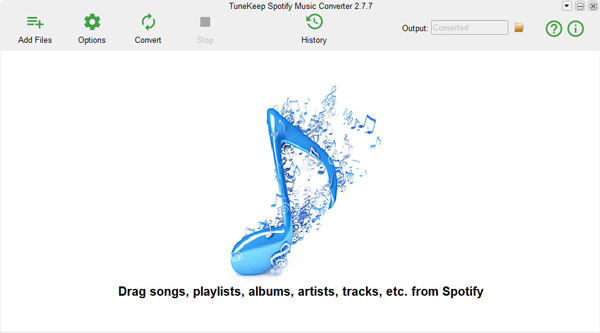 Step 2:

Add and choose Spotify music

You should choose and add songs from Spotify to the converter. For that, TuneKeep Spotify Music Converter has provided two methods for users.

The first method needs you to display both Spotify and the converter on the same screen. After that, you can drag songs, playlists or albums from Spotify and drop it to the converter. When the Spotify music was added, you can choose which songs you want to convert by clicking on the song's checkbox. This method is extremely simple, isn't it?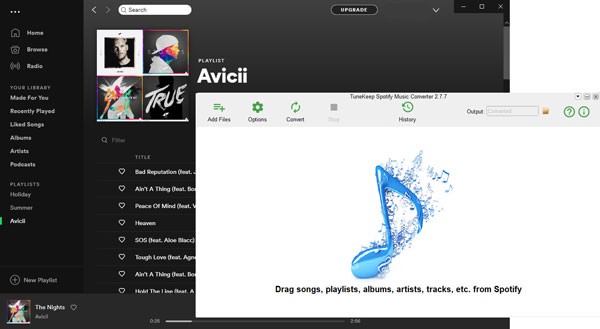 The first method is simple while the second method is also easy to operate. If you can't display Spotify and the converter in a screen or you want to do this conversion in full-screen mode, you can try this "copy & paste" method. You can copy the link of Spotify songs, playlists or albums first, then go back to Spotify Music Converter and paste in the link bar and then click the "+" button after clicking the "Add Files" button. As same as the first method, after the Spotify songs were added, you can choose the ones you want to convert by ticking the checkbox.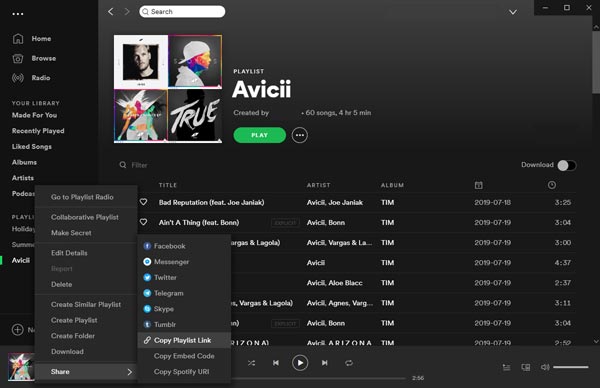 When Spotify music is added and selected as you wish, please click the "Add" button.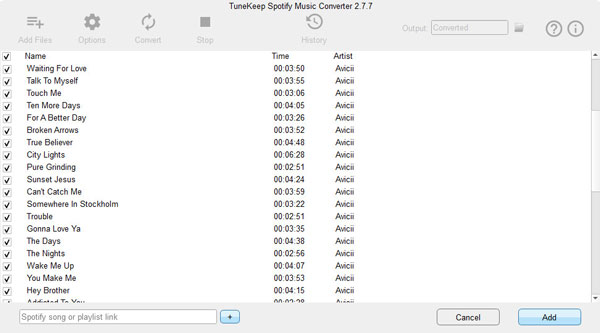 Step 3:

Choose M4A as output format

You can see there is an "Options" button at the top left corner, click it and you can open the Options window. In the Options panel, you can choose output M4A as output format for your Spotify songs, you can also adjust volume and conversion speed or make other changes on the conversion and output files.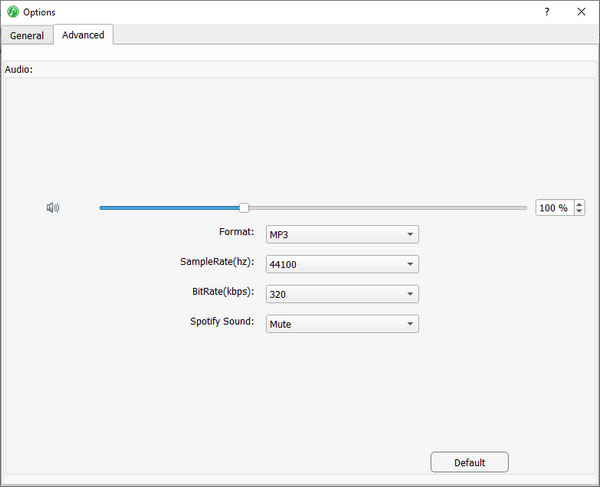 Step 4:

Start converting Spotify to M4A

This is the last step of the conversion, all you need to do is press the "Convert" button and waiting for the conversion to be finished. After the conversion, you can go to the History panel by clicking the "History" button to locate the output files.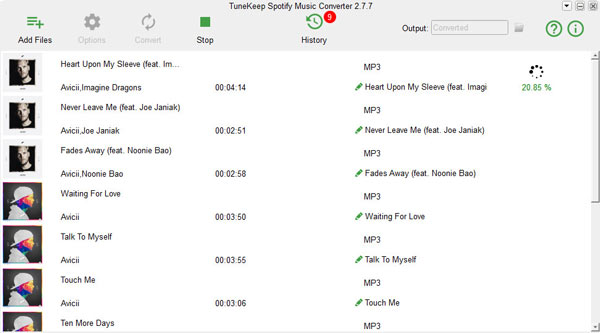 Conclusion
Professionality and efficiency are the sign of TuneKeep Spotify Music Converter, it provides a reliable way for Spotify users to enjoy music and "use" Spotify songs with ease and freedom, which Spotify did not provide. Additional, M4A is a great audio format that offers better audio quality for users and this is why it is popular. After converting Spotify music to M4A with TuneKeep Spotify Music Converter, you will be able to add Spotify songs as BGM when editing videos, burn them to CDs, transfer them to any flash drive and enjoy them on any audio-playable devices. No matter you are using iPod Nano/Shuffle/Classic, Sony Walkman, iPod Touch 2/3/4 or other devices, you can now truly enjoy Spotify music without any restrictions. For a better music experience of yourself, you should really download and try TuneKeep Spotify Music Converter now instead of being hesitant.