Before the age of smartphones, it was common to carry an MP3 player and listen to music with earphones as a leisure. However, due to the impact of streaming music services and smartphones, MP3 players are sometimes said to be out of date. Even so, there are still many people who like to play music with MP3 player on the go. Meanwhile, MP3 players continue to evolve with the development of technology. MP3 players with different features such as FM radio, recording, pedometer, alarm clock, custom equalizer and Bluetooth, will also appear one after another.
iPod Touch and some kinds of MP3 players which come with Android OS are also considered as MP3 players. Sony even released Streaming Walkman that supports streaming music services such as Spotify. However, most MP3 players don't support Android OS, so Spotify music is not supported either. In this article, we will show you how to use TuneKeep Spotify Music Converter to convert Spotify music to MP3 and put the songs on MP3 player for playback.
Benefits of MP3 Players
An MP3 player is a device used for the specific purpose of playing music. Even in the age of smartphones and streaming music, MP3 players are often more convenient than smartphones and tablets because they are light and cheap to carry. There are almost no factors that impede sound quality (operating system, additional functions, etc.). Also, since you have to receive messages and notifications in your daily life when you use your smartphone, you can't concentrate all your battery on playing music. With an MP3 player dedicated to music, you can concentrate on listening to music with peace of mind. It has a long continuous playback time, and some models have a long battery that can play for about 70 hours, so you don't have to charge it for a few days. The operation is simple, and music can be played easily regardless of age or gender.
The same is true for the built-in storage. With smartphones, OS takes up a big part of storage and you will install various apps and save various photos and data. An MP3 player can store more music than a smartphone, and a 256GB large-capacity model can store about 20000 songs. It's safe to say that MP3 players were "born for music." Depending on the model, people will be fascinated by the playback function that allows compressed sound sources such as MP3s to approach high-resolution sound sources that have more information than CDs.

There are different factors that can be considered when purchasing an MP3 player, depending on your personal needs. The main factors are capacity, how to store songs, compatible formats, Bluetooth function, language learning function, presence/absence of high resolution, presence/absence of SD card support, etc. In particular, you should pay attention to the capacity of your MP3 player. In general, a single 128/160/192kbps normal sound MP3 file is 2-5MB and a high quality 320kbps MP3 file is 5-10MB. Other formats like OGG, M4A, etc. are almost the same. However, for songs such as WAV, APE, and FLAC with lossless compression, even one file can reach 20MB-50MB. When purchasing an MP3 player, 1GB is calculated as 1024MB, and considering the number of songs, format and total capacity you want to put in the MP3 player, you will be able to select the right capacity MP3 player appropriately.
Recommended MP3 players include iPod Nano/Shuffle/Touch, Sony Walkman, Creative Zen, iRiver, etc. If necessary, you can search "MP3 Player Recommendations" or similar keywords on Google to find detailed comparisons of MP3 players of different brands and models, or find best sales of MP3 players on Amazon or Ebay.
Some MP3 Players That Support Spotify Music Service
Most MP3 players are not equipped with iOS or Android OS. And because you can't install the Spotify app, you can't enjoy Spotify music directly. Spotify Free can't even download songs. Songs downloaded from Spotify Premium are encrypted Ogg files and cannot be played even if you put them in an MP3 player model that supports unprotected Ogg format.
It is not clearly defined what devices belong to the category of MP3 players. Apple's iPod Nano/Shuffle is an MP3 player and does not have iOS, so it does not support Spotify music. The iPod Touch is also sometimes referred to as an MP3 player. If you have an iPod Touch 5th, 6th, or 7th generation, you can install the Spotify app. In other words, the iPod Touch 5/6/7 MP3 player can support Spotify music.
On October 16, 2019, on the occasion of the 40th anniversary of the Walkman's appearance, Sony announced the "Streaming Walkman" with streaming music playback functions such as Apple Music and Spotify. The "NW-A100" series and "NW-ZX500" series lineup was released on November 2nd. The Walkman models of the "NW-A100" series and "NW-ZX500" series are compatible with Spotify. Other non-Streaming Walkman models don't support Spotify music.
From the current situation, except for a few MP3 players, you need Spotify to MP3 converter to enjoy Spotify music on MP3 player.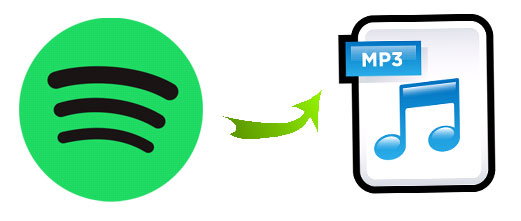 Fortunately, Spotify to MP3 conversion is easier than you think. With TuneKeep Spotify Music Converter, you can convert Spotify songs to MP3, M4A, WAV and put them in your MP3 player for playback. In this article, we will introduce the features and how to use TuneKeep Spotify Music Converter.
TuneKeep Spotify Music Converter: Professional Spotify to MP3 Converter
TuneKeep Spotify Music Converter can convert Spotify songs, albums and playlists to all-purpose MP3, M4A, WAV, FLAC and other audio formats regardless of the Spotify plan you are using. Output files can be played in MP3 players without any restrictions.
Spotify Music Converter Amazing Features
Support both Spotify Free and Spotify Premium
Convert Spotify music to MP3, M4A, FLAC, etc. that can be played on MP3 players
Convert Spotify songs, albums and playlists in bulk with only a few clicks
Automatically skip advertising audio when you are using Spotify Free
Keep song information such as song title, album, artist and artwork in output file
Rename output files in bulk by title, album, artist, track number, hyphen, space, etc.
Organize output files into folders by album, artist, artist/album or album/artist
Convert your favorite songs without stop playback when using Windows version
Fully support latest version of Spotify application, Windows and macOS
Convert Spotify Songs to MP3 and Copy the Output MP3 Files to MP3 Player for Playback
Converting Spotify songs, albums and playlists to MP3 with TuneKeep Spotify Music Converter is very simple and can be done in just a few clicks. Please refer to the steps of Spotify to MP3 conversion below
Step 1:

Launch Spotify Music Converter

Launch TuneKeep Spotify Music Converter, Spotify will be also launched automatically. Please do not operate Spotify during conversion and do not close Spotify until the conversion is complete.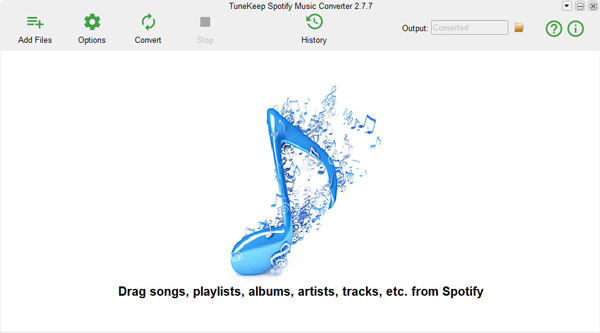 Step 2:

Add Spotify Music

There are two ways to add Spotify songs to TuneKeep Spotify Music Converter: drag & drop and link copy & paste. Both ways are easy. You can add Spotify music in either way you like, please check to the introduction below.

Drag &drop: You can display both Spotify and TuneKeep Spotify Music Converter on the screen at the same time and drag & drop your favorite music, playlists or albums from Spotify to the software interface. You can repeat the operation to add multiple times.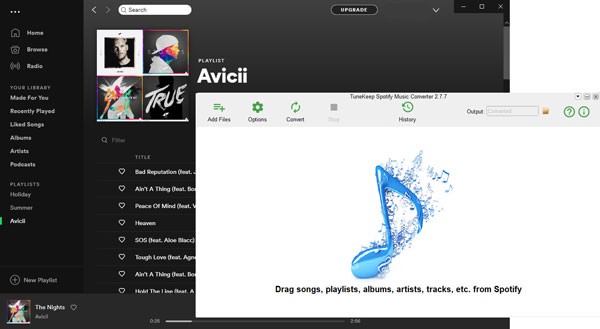 Link copy & paste: Right-click a song, a playlist or an album on Spotify and click "Share" menu, then click "Copy Song Link", "Copy Playlist Link" or "Copy Album Link" to get the link. After that, click the "Add" button in the interface of TuneKeep Spotify Music Converter, paste the copied link into the input box at the bottom left of the displayed screen, and click Add button.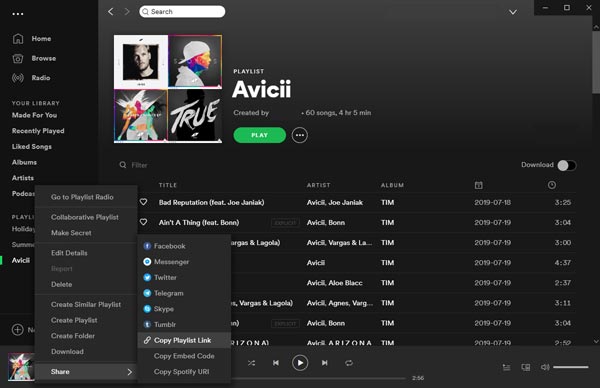 After that, all songs in the playlist or album will be displayed as a checked list. If there are some songs you don't want to download, just untick the checkboxes of the songs. After that, click Add button to add the checked ones to the conversion list.
Step 3:

Output Settings

The default output format of TuneKeep Spotify Music Converter is 320kbps MP3. MP3 players can always play MP3 format, so it's safe to use MP3 output formats. Output formats such as M4A, WAV, and FLAC are also available, but you'd better to check the specifications of your MP3 player and see whether the music formats can be supported or not. If necessary, you can click Options button to set output folder, how to rename and sort output files, output volume and output formats.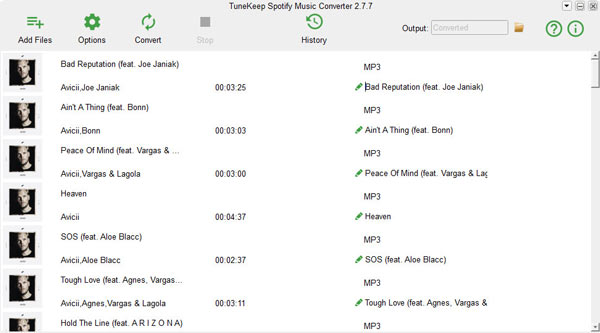 Step 4:

Start Spotify Music Conversion

Click the "Convert" button to start Spotify music conversion. The converted songs can be easily found by clicking History button. Click the small folder icon to open the output folder and locate the output files.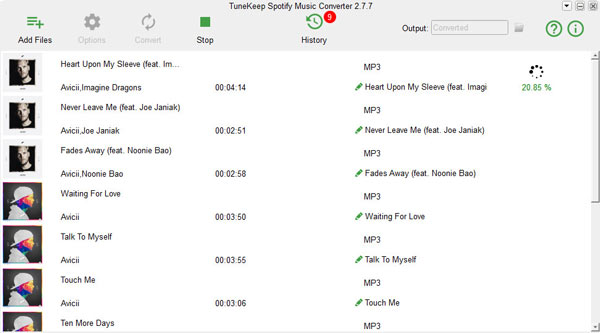 Step 5:

Copy the Output Files to Your MP3 Player

Most MP3 players will appear as removable disk when connected to a computer using a USB cable. Copy the output MP3/M4A/WAV files from the output folder of TuneKeep Spotify Music Converter and paste them into the music folder of MP3 player. Some MP3 player manufacturers may also have freeware for music management and transfer.

Sony Walkman is also recognized as removable disk. Just copy the songs and paste them into the MUSIC folder, just like a regular MP3 player. Also, You may use the dedicated software like Music Center for PC, Content Transfer, x-app, Media Go, etc. introduced on Walkman official website.

For iPod Nano/Shuffle/Touch, add the output songs to the music library of iTunes (Windows, Mac up to macOS 10.14.6) or Music app (macOS 10.15 Catalina or later), and then connect to your computer with a USB cable, and then sync the songs to your iPod Nano/Shuffle/Touch.

Now, no matter what MP3 player you use, you can put your favorite Spotify music in your MP3 player and enjoy without limitations on the go. If you want to play Spotify music on MP3 player, please download and try TuneKeep Spotify Music Converter.