Spotify has been providing music streaming and downloading services for over 10 years. Spotify has continued to develop over time, and its system requirements have also been updated because both the device technology and the software itself are constantly improving. In addition, because of the rapid development of electronic devices in recent years, a lot of new-developed smart phones, tablets, smart watches, smart speakers, smart car stereos and other devices are launched every year or even every month. When a new device is launched, if Spotify fails to support it, users who own the device will be unable to enjoy Spotify music. So, it is important to learn about the system requirements and the supported devices of Spotify to avoid making mistakes when we are going to enjoy music with Spotify.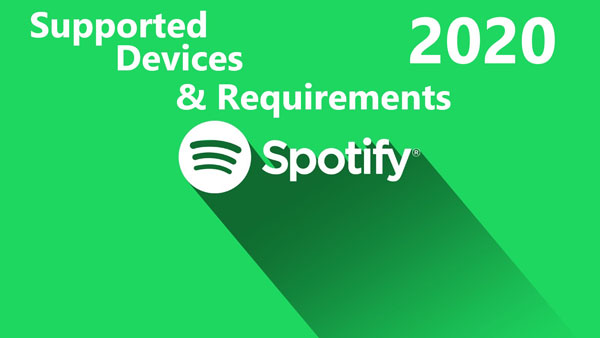 Spotify's Requirements, Supported & Unsupported Devices List
We will directly show you the requirements, supported devices and unsupported devices.
iOS 11 or higher
macOS 10.10 and higher
Apple TV 4th generation and onward
Windows 7/8/8.1/10
Android 4.1 or higher
Supported Devices
iPhone:
iPhone 5S, iPhone SE, iPhone 6, iPhone 6 Plus, iPhone 6S, iPhone 6S Plus, iPhone 7 and iPhone 7 Plus will need to upgrade to iOS 11 since the original iOS version of these models is lower than iOS 11, which is also the lowest iOS requirement of Spotify. You can enjoy Apple Music naturally on iPhone 8 or higher generations including the latest iPhone X, iPhone XS, iPhone XR, iPhone XS Max, iPhone 11, iPhone 11 Pro and iPhone 11 Pro Max.
iPad:
iPad Air, iPad Mini 2, iPad Mini 3, iPad Air 2, iPad Mini 4, iPad Pro 1st, iPad 5th generation and iPad Pro 2nd need to upgrade to iOS 11 or the latest iPadOS to match the lowest requirement of Spotify. iPad 6th generation, iPad Pro 3rd, iPad Air 3rd generation, iPad Mini 5th generation, iPad 7th generation can naturally run Spotify.
iPod Touch:
Spotify is available on the 6th and 7th generation of iPod Touch. Other generations of iPod Touch cannot run Spotify since the final supported OS of them are lower than iOS 11.
Apple TV:
Spotify is now available on Apple TV 4th generation streaming boxes. You can download Spotify via the tvOS App Store or enable "automatically install apps" in tvOS settings to get it.
Apple Watch:
To get Spotify on Apple Watch, you'll need iPhone running iOS 11 or above and Apple Watch on watchOS 4.0 or above. All you need for Spotify to show on your Apple Watch is the Spotify app installed on your iPhone and a Spotify account. Just open the Spotify app on your watch and log in to start playing.
Android Mobiles, Tablet and TVs:
To run Spotify, you will need an Android mobile phone or tablet with Android 4.1 (Jelly Bean) or higher. Many Android mobile models from Samsung, Sony Xperia, Huawei, Google Pixel, LG, Xiaomi, etc. can support Android 4.1 or higher versions, many Android tablets like Samsung Galaxy Tab, Google Pixel C, Huawei MediaPad M3, etc. are also qualified, the number of the supported Android devices are too many to list them all. Check if your Android device can run with Android 4.1 or later before using Spotify.
Other Smart TVs:
Users can use the Spotify app on smart TVs other than Apple TV. Smart TVs like Samsung QLED TV, Amazon Fire TV, LG Smart TV, Sony Bravia TV, Philips Smart TV and Sharp Aquos TV.
Amazon Devices:
Amazon devices like Fire tablets, Fire TV and Kindle series is supported by Spotify as well.
Car Audio:
Spotify is now available on car audio with Android Auto or Apple CarPlay. Some car models of BMW, Buick, Cadillac, Cheverolet, GMC, Mini, Tesla and Volvo can naturally play Spotify.
Game Consoles:
With the Spotify app, available on PlayStation Music, you can listen to Spotify on your PS4 or PS3 console. You can also enjoy Spotify on Xbox One by downloading Spotify from the Microsoft Store on your Xbox One console.
Other Smart Watches:
You can enjoy Spotify on Wear OS for Google Watches running with Android 6 or above. Gear S3, Gear Sport, Gear Fit 2 and Fit 2 Pro, and Galaxy Watch are also supported.
---
Unsupported Devices
iPod Nano/Shuffle/Classic:
Spotify does not support iPod Nano / Shuffle / Classic since they are running neither iOS nor Android OS.
Other smart phones:
The other smart phones like Nokia with Windows Phone 7, Windows Phone 8, Windows Phone 8.1 or Windows 10 Mobile, and smart phones running Symbian and BlackBerry are not supported by Spotify.
MP3 Players:
Almost every MP3 player is not supported by Spotify, Famous MP3 players like Sony Walkman is also unsupported. What's more the downloaded Spotify songs are encrypted and cannot be played on MP3 players like Sony Walkman, HiFiMan SuperMini, AK Jr and Onkyo.
How to Enjoy Spotify on Any Devices?
To enjoy Spotify songs on every device, we will need to convert the Spotify songs to plain MP3, M4A, WAV or FLAC first. For that ,a professional and efficient converter named TuneKeep Spotify Music Converter could be useful.
What's good with TuneKeep Spotify Music Converter
Convert any Spotify songs to plain MP3, WAV, M4A and FLAC files
Reserve ID3 tags like title, album, artist, genre, artwork, etc. in output files
Keep lossless original audio quality in output files after conversion
Sort output files into folders by "artist", "album" or "artist/album" in simple clicks
Rename the output files in bulk by artist, title, hyphen, space, etc.
Support the latest Windows, Mac OS X and Spotify free / premium account
How to use TuneKeep Spotify Music Converter to enjoy Spotify on any device
Step 1:

Launch TuneKeep Spotify Music Converter

When you launch TuneKeep Spotify Music Converter on your computer, Spotify app will also be launched because it is required for the conversion. Make sure to keep Spotify running before the conversion is done. After that, click "Add Files" button from the top-left corner.
Step 2:

Add Music from Spotify

You'll need to add songs from Spotify to the converter. You can add with the "drag & drop" method, which requires you to drag Spotify songs, albums or playlists from Spotify and drop them into the converter.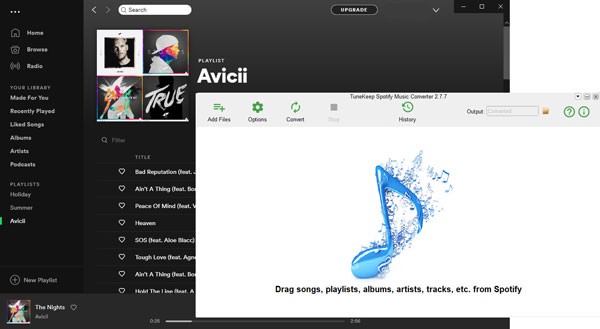 With the second way called "copy & paste", you can copy the link of the Spotify song, album or playlist then paste it in the link bar and click "+" button.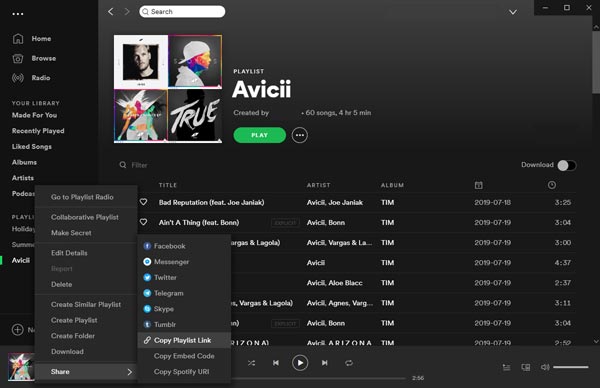 After adding songs from Spotify, you can see the songs are placed in the main panel with a checkbox for each song. All the songs are checked by default but you can manually uncheck some of them if you don't want them to be converted.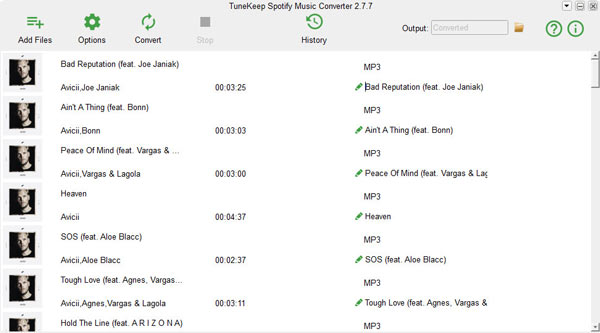 Step 3:

Set Options and Settings

In the top-left corner, you can click on the "Options" button to open the Options panel, where you can adjust volume, set conversion speed, select output format, select output folder and make other changes to the conversion.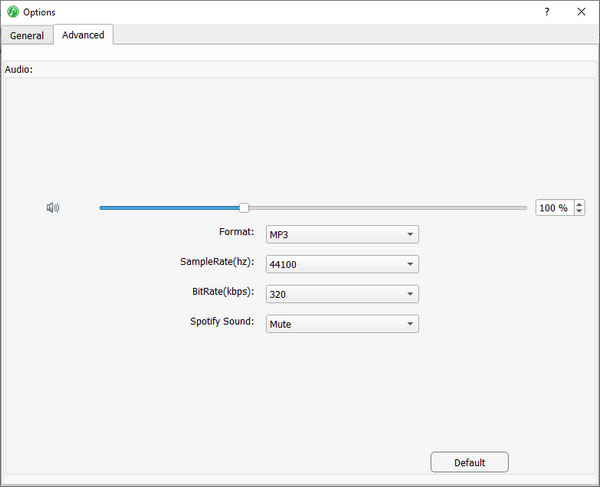 Step 4:

Start the Conversion

When everything is set up, you can start the conversion by clicking the "Convert" button in the top-left corner.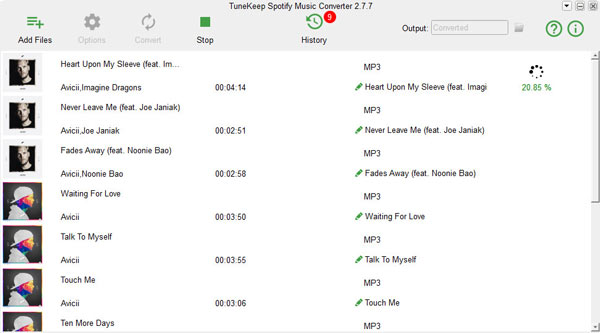 Step 5:

Enjoy Spotify on Any Device Now

You can now transfer the converted Spotify songs to any device you want. The unsupported devices like Sony Walkman, iPod Nano, iPod Shuffle, etc. can definitely play the converted audio files and you can no longer worry about being disturbed by the limitations of Spotify when listening to Spotify music.