The famous Apple Music was first launched on June 30, 2015 as "a product that can restore the prosperity of the music industry". When Apple Music was launched, it immediately caught the attention and discussion of users around the world. As a music streaming service that media and users generally consider being great on functions and operations, the number of Apple Music users has grown really fast. Soon, in 2019, Apple Music owns more than 65 million subscribers in 113 countries and regions and it also has a music library with over 50 million songs. But until today, many subscribers have misunderstood the devices that Apple Music supports, which makes people who are spending money to subscribe to Apple Music but can't listen to Apple Music songs on their devices feel upset. In this case, people will need to convert Apple Music to MP3, M4A or other formats that diverse devices can recognize and play. Read this article and we will introduce a reliable way to this problem.

Is Your Device Supported by Apple Music?
When Apple Music was launched in 2015, its success is predictable. Prior to Apple Music, Apple's iPod and iTunes had "changed digital music", on this basis, coupled with good operations, Apple Music will sooner or later become the most successful music streaming service. But unfortunately, Apple Music doesn't seem to be as smooth as we think in its own development since Apple Music does not maintain a good balance between "users" and "business". This is mainly reflected in the contradiction between subscribers' growing needs of playing Apple Music freely and Apple Music's restrictions on subscribers.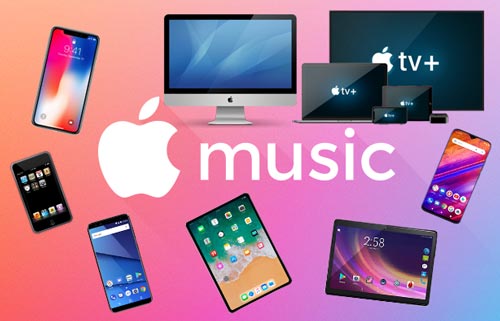 Speaking of Apple Music's restrictions on users, it will naturally remind people about the problem of Apple Music supported devices. There are a lot of subscribers have reported that they can't use Apple Music on their electronic devices. Because Apple owns a lot of products, and the relationship of them is very close, many Apple Music subscribers will easily confuse Apple Music support with Apple Music unsupported devices, which causes misunderstanding. In addition, a large part of Apple Music's subscribers come from other operating systems or use other non-Apple products, and their misunderstanding on this issue is even more serious. For example, you can use Apple Music on the 5th or later generations of iPod Touch, but users of the 2nd, 3rd and 4th generations of iPod Touch may not know this, so they paid for the subscription of Apple Music but finally they found that they couldn't run Apple Music on their devices, which is such a pity.
In order to help users to avoid this kind of situation, we will list the requirements, supported devices and unsupported devices of Apple Music for you in the following paragraph.
Apple Music's Requirements, Supported & Unsupported Devices List
Requirements
iOS 8.4 and higher
macOS 10.9.5 and higher
Apple Watch with watchOS 5 or watchOS 6
Apple TV 4/5/6 with tvOS 9.0 or later
Windows 7/8/8.1/10
Android 5.0 (Lollipop) or higher
Supported Devices
iPhone:
iPhone 4S, iPhone 5, iPhone 5C, iPhone 5S, iPhone 6, iPhone 6 Plus will need to upgrade to iOS 8.4 since the original iOS version of these models is lower than iOS 8.4, which is also the lowest iOS requirement of Apple Music. You can enjoy Apple Music naturally on iPhone 6S or higher generations including the latest iPhone X, iPhone XS, iPhone XR, iPhone XS Max, iPhone 11, iPhone 11 Pro and iPhone 11 Pro Max.
iPad:
All generations of iPad support Apple Music except for the first generation. Please note that you will need to upgrade the iOS version of your iPad to at least iOS 8.4 first.
iPod Touch:
Apple Music is available on the 5th, 6th and 7th generation of iPod Touch. Besides, the 5th generation of iPod Touch will need to update to iOS 8.4 or later first. The first, second, third and fourth generation of iPod Touch cannot run Apple Music.
Apple TV:
So far there are five generations of Apple TVs, of which the first, second and third generation of Apple TVs can't run Apple Music. The fourth-generation Apple TV and Apple TV 4K run with the tvOS system, so Apple Music is available on them.
Apple Watch:
If you're connected to Wi-Fi on your Apple Watch Series 3 or later, you can stream Apple Music, Apple Podcasts, and audiobooks, you can also sync music from your iPhone to your watch. If you're an Apple Music subscriber, you can play any song in the Apple Music catalog. Or use Siri to play any song in the Apple Music catalog. If you're not an Apple Music subscriber, you can play your songs, albums, and playlists.
Mac OS X:
You will need iTunes with version 12.2 or later (on macOS 10.15 Catalina, it is "Music" app). Since macOS 10.9.5 is required for iTunes 12.2, Apple Music can be run on macOS 10.9.5 or later, which are Mavericks 10.9.5, Yosemite, El Capitan, Sierra, High Sierra, Mojave and the newest Catalina 10.15. This also means Apple Music is not available on Mac 10.8 or older systems including Mountain Lion, Lion, Snow Leopard, etc.
Android Mobiles, Tablet and TVs:
To run Apple Music, you will need an Android mobile phone or tablet with Android 5.0 (Lollipop) or later. There are a lot of Android mobile brands such as Samsung, Sony Xperia, Huawei, Google Pixel, LG, Oppo, etc., and there are also too many Android tablets like Samsung Galaxy Tab, Google Pixel C, Huawei MediaPad M3, etc., we cannot list them all here. Just make sure your Android device is running with Android 5.0 or later. You can get the Apple Music app from Google Play. If you have subscribed to Apple Music you can sign in with your Apple ID, you can also subscribe to Apple Music on an Android mobile phone or tablet if you haven't subscribed. To use the latest features of Apple Music, you can update your Android device to the latest software version and update the Apple Music app.
Unsupported Devices
iPod Nano/Shuffle/Classic:
Even though iPod Nano/Shuffle/Classic are also Apple devices, none of them supports Apple Music since they are not running with iOS.
Other Smart phones:
The other smart phones like Nokia with Windows Phone, smart phones with Symbian and BlackBerry. Apple Music has given up on these smart phone systems, so all of them are not supported by Apple Music.
Game Consoles:
Popular game consoles like PS4, PS3, PS2, PSP, Xbox 360, Xbox One are not supported by Apple Music.
Amazon Devices:
Amazon devices like Fire tablets, Fire TV and Kindle series are not supported by Apple Music as well. But Amazon smart speakers like Amazon Echo and Echo Dot can play Apple Music songs via Bluetooth connection.
MP3 Players:
Almost every MP3 player is not available to play Apple Music songs since the downloaded Apple Music songs are in encrypted M4P format. So, MP3 players like Sony Walkman, HiFiMan SuperMini, AK Jr and Onkyo cannot run Apple Music and cannot play Apple Music songs.
How to Enjoy Apple Music on Any Device?
If you want to use Apple Music freely and listen to Apple Music songs on multiple devices including those "not supported" devices we mentioned above, you will need to convert Apple Music songs to some plain formats like MP3, M4A, AAC, AC3, etc. first. For that, you must need TuneKeep Audio Converter to help you with this since TuneKeep Audio Converter is a professional and efficient audio converter that is designed to convert Apple Music songs to plain format.
TuneKeep Audio Converter can convert all Apple Music songs to MP3, M4A, ACC, FLAC, etc. format that can be played on any audio playable devices with 100% lossless audio quality retained and keep all ID3 tags of each song after conversion. What's more, it provides 16X faster conversion speed to save users time for beginning a new Apple Music enjoyment. You can also sort output files and rename every song with a few simple clicks. Most importantly, the operations of TuneKeep Audio Converter are extremely simple and easy-to-understand. Please read the clear user guide of TuneKeep Audio Converter and learn how to enjoy Apple Music on any device.
Step 1:

Launch TuneKeep Audio Converter

Download and install TuneKeep Audio Converter first and you can launch it easily on your computer. The iTunes (Apple Music application on macOS 10.15 Catalina) will also be launched with TuneKeep Audio Converter.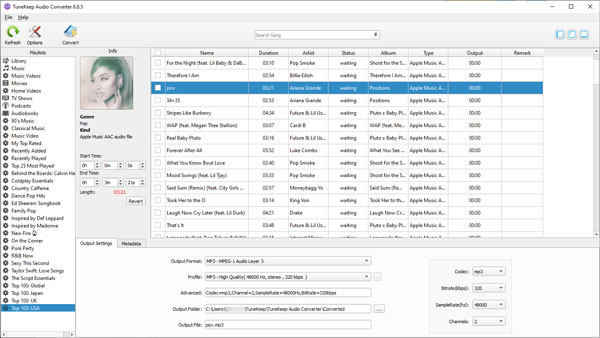 Step 2:

Add Apple Music

Choose and add your favorite Apple Music songs or playlists to the conversion list. A built-in search-box can help you locate songs.
Step 3:

Output and Conversion Settings

Choose an output format for your Apple Music songs, we recommend you use MP3 and M4A as output format since these two formats can be recognized by most devices.
Step 4:

Start the Conversion

Click the "Convert" button to start the conversion, you can locate output files by clicking "Open Output File" button after the conversion is finished.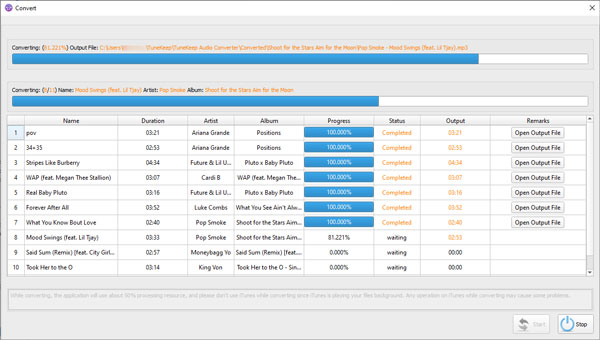 Step 5:

Enjoy Yourself

Copy, sync or transfer the converted Apple Music songs to your devices and start the fresh music enjoyment without limitations.