Recently, traveling by car has become more and more popular, countless people and families choose to travel around in this way. And most of them love to listen to music while driving since it is definitely one of the most amazing and coolest ways for every driver and passenger to relax. When people are driving long distances, listening to appropriate music can even help them stay awake and avoid car accidents. Well, do you know the method to play Apple Music in your car? If you don't, then you can read this post to choose a suitable method for yourself. If you do, then you might also be interested in finding out the best way to listen to Apple Music in the car.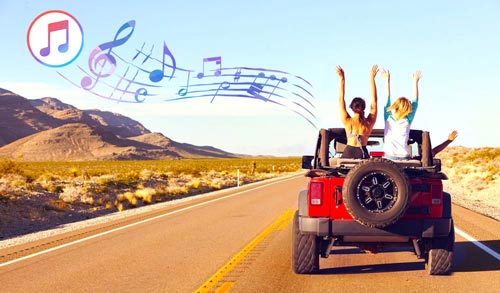 Common Methods to Play Apple Music in The Car
Apple CarPlay
CarPlay can be set up in more than 63 vehicle brands and over 500 models now. By visiting the official support list of CarPlay, you can simply know if your car is supported by CarPlay. If you own a car that is supported by CarPlay and any iPhone model beginning with iPhone 5 running iOS 7.1 or later, you can connect your device to CarPlay via USB cable and start playing Apple Music on your car.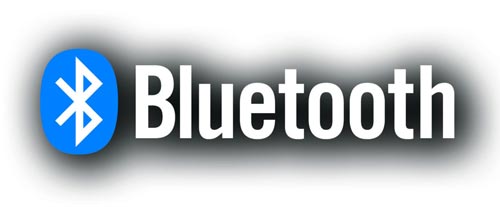 Auxiliary Input
With an Auxiliary cable that is common and widely-used, you can easily connect your phone to the car stereo. It performs better audio quality but there is an obvious disadvantage of it. We try so hard to make our life smarter and simpler, but AUX is cable-needed. It is an available method to play Apple Music in the car, but obviously, it is not the best method.
Bluetooth
Using Bluetooth is so far the most convenient method to play Apple Music songs in the car. Almost every car stereo can support Bluetooth, and most smart phones have Bluetooth features. Simply pair your phone with your car stereo and turn on Apple Music, you can enjoy Apple Music songs in your car. However, the audio quality would not be as good as you hope.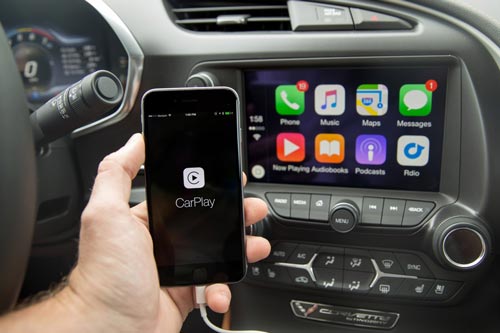 CDs and USB Drives
The classic methods to play audio in the car stereo. Playing Apple Music songs in the car by both CDs and USB drives can provide lossless audio quality and save space on your phone, you don't even need an Internet connection to do this. However, Apple Music tracks are not available to be burned or transferred to CDs and USB drives directly. So, is it impossible to play Apple Music in the car with CDs and USB drives? The answer goes to No. All users who want to enjoy Apple Music in their car with CDs or USB drives should take a look at TuneKeep Audio Converter, a powerful audio converter that can convert Apple Music for multiple formats like MP3 and M4A. Let's find out what's good with TuneKeep Audio Converter now, shall we?
TuneKeep Audio Converter – Ultimate Solution to Play Apple Music in The Car
As we all know, Apple Music downloaded songs are in encrypted M4P format, which can't be burned to CDs or disable in USB drives. But TuneKeep Audio Converter can convert the encrypted Apple Music songs to plain formats such as MP3, M4A, AIFF, WAV, etc. Below are further features of TuneKeep Audio Converter.
Features & Advantages of TuneKeep Audio Converter
Convert Apple Music with all ID3 tags like title, genre, artist, album, etc. retained
Keep 100% lossless audio quality in output formats for better music enjoyment
Convert in 16X faster conversion speed and make the conversion an instant thing
Sort converted Apple Music songs into folders by ID3 tags and special characters like slash, hyphen or underline
Batch conversion function helps users to convert a large number of Apple Music tracks
Fully compatible with the latest Windows OS, macOS (including Catalina) and iTunes
How to Use TuneKeep Audio Converter – Quick Guide
Step 1:

Launch TuneKeep Audio Converter

Directly launch TuneKeep Audio Converter on your computer and Apple Music (Music app on macOS 10.15) will be launched as well. After a short time of loading, all the media files in your iTunes library will be displayed as playlists in the left panel. Note: please keep iTunes running before the conversion is completed.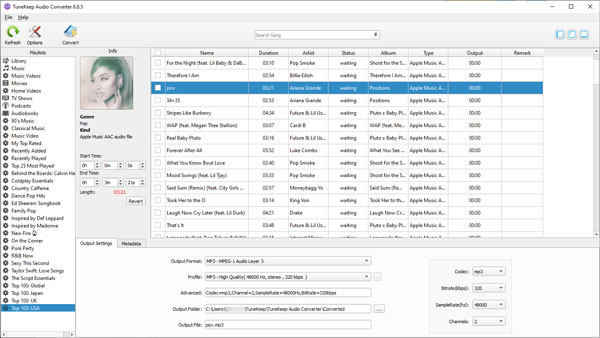 Note: Please do not make any operations like download or stream songs on iTunes and especially do not exit iTunes when converting. Or else, it may cause some error of the program and the conversion will be failed.
Step 2:

Choose Apple Music songs

Click on the playlists and all the Apple Music songs in it will be shown in the main panel. There is a top checkbox in the top bar and each song has a checkbox, too. Check the top checkbox and all the songs will be checked at once, if there are some songs you don't want, just simply uncheck it.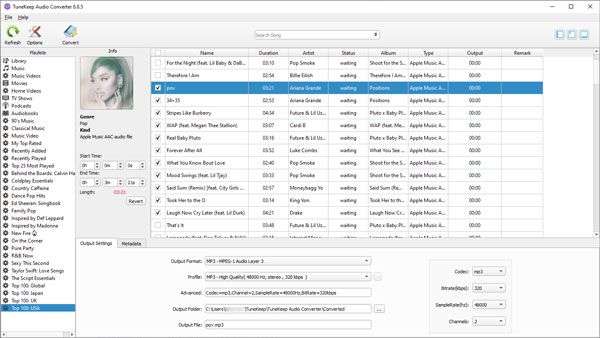 Step 3:

Set output format and other settings

In the bottom panel, you can choose an output format for your Apple Music songs. MP3, M4A, AIFF, WAV, AC3, AU, AAC, FLAC are all available. We suggest that you should choose MP3 or M4A as the output format since they are the most popular ones and they can be recognized by most car stereo.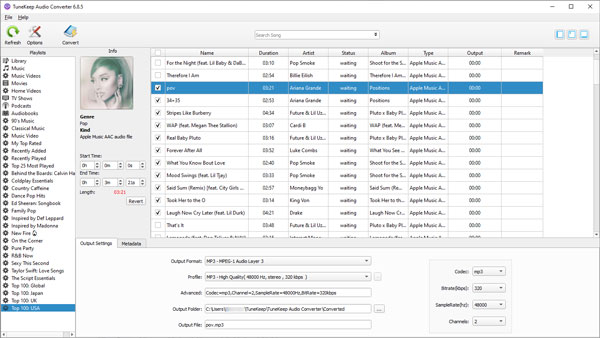 After that, you can open the Options window by clicking the "Options" button in the top left corner to set conversion speed, adjust volume, sort output files into folders and make other conversion settings in this window.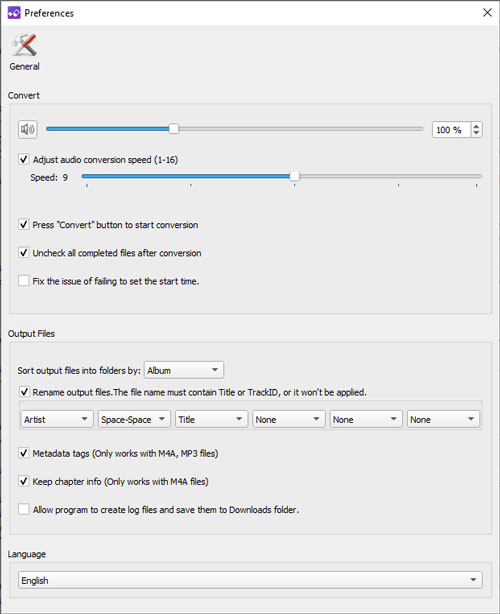 Step 4:

Start the conversion

You can now start the conversion since everything is ready. Press the "Convert" button in the top left corner and the conversion will be started instantly. Because TuneKeep Audio Converter provides up to 16X faster conversion speed, it will only take you a few seconds to a couple of minutes to finish the conversion. After waiting, you can locate the output files by clicking the "Open Output File" button.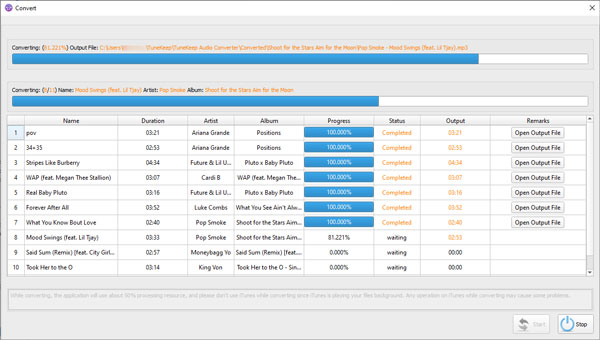 When you get all your wanted Apple Music songs converted, you can easily burn them to CDs or transfer them to USB flash drives with iTunes or other third-party tools.
Conclusion
Enjoying Apple Music in the car via CDs and USB flash drives would be the greatest way to relax ourselves when driving with the help of TuneKeep Audio Converter. From now on, converting Apple Music songs from M4A to plain formats and enjoying converted songs in the car are unbelievably convenient and easy. Imagine you are having a great road trip with your family, friends or even alone and you can play your favorite Apple Music songs without limitations, everyone in the car is immersed in the wonderful music. At this very moment, your journey has become extremely joyful. Don't let Apple Music ruin your music enjoyment in the car and remember TuneKeep Audio Converter is always glad to help. Click the "Free Trial" button below and start your new music experience right now!