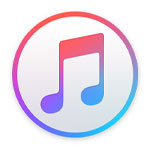 Apple Music is currently one of the largest providers of streaming music services. As the number of users increases, some people may not be familiar with some of the detailed functions and settings. Certainly, the best feature of streaming music services is that you can listen to more than tens of millions of songs anytime, anywhere. Thanks to that, there are many children and elderly users.
Questions like "where are the lyrics of my Apple Music songs" and "Why don't you have the lyrics for this song?" are often asked. In this article, we will explain how to display lyrics of Apple Music songs on computer or iPhone / iPad as well as discuss some lyric problems.
We will also show you how to convert Apple Music music to MP3, M4A with TuneKeep Audio Converter as well as how to display lyrics of MP3/M4A songs on different devices.
How to Display Apple Music Lyrics on Your Computer
First, let's see how to display Apple Music lyrics on a Mac computer. Mac here refers to macOS Catalina 10.15 or later. Since macOS Mojave or older macOS uses iTunes to play Apple Music Songs, the way to display the lyrics of Apple Music is the same as in Windows iTunes which will be discussed later.
Open the Music app on your Mac and play your favorite song first. If there are lyrics available, click the lyrics button in the upper right corner to toggle whether the lyrics are displayed in time with the song. If the lyrics are not displayed at the same time as the song, the full lyrics of the song may be displayed instead.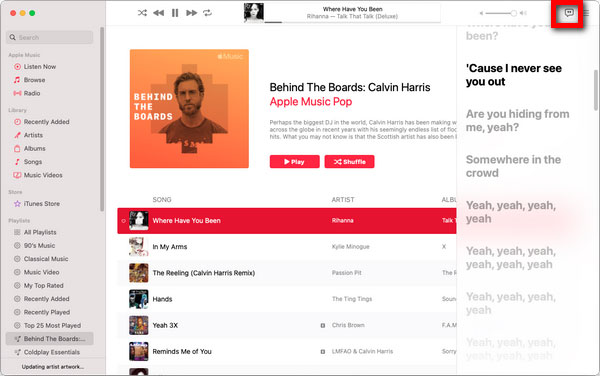 If you're using iTunes on Windows, click the menu button to the right of the playbar in the center of the top of iTunes, then click the lyrics tab from the three tabs to see the lyrics of the song.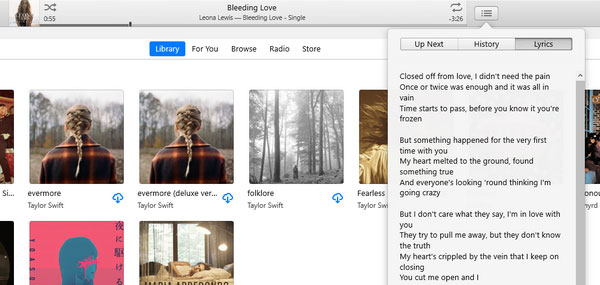 On both Windows and macOS, if there is no lyric for the Apple Music song, after clicking Lyrics tab, you'll see a message that "No Lyrics Available. There aren't any lyrics available for this song".
How to Display Apple Music Lyrics on iPhone/iPad
Since the method of displaying lyrics on iPhone and iPad is the same, here we use iPhone as an example. The method on Android is almost the same.
First, open the Music app and play your favorite song. Then, at the bottom of the screen, tap the song being played to display the detailed information screen for the song. Then, when you tap the lyrics button in the lower left corner, the lyrics will occupy half of the screen and be displayed. There is a playback button at the bottom of the screen. After a few seconds, if you do nothing, the lyrics will be displayed in full screen. Tap the appropriate place and the menu bar will come back. In general, the timing of lyrics display and the progress of song playback are synchronized.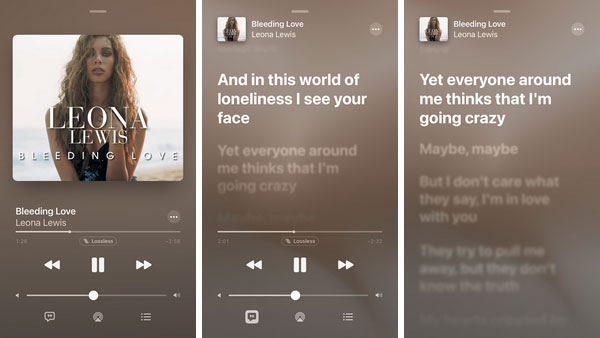 Some Known Problems of Apple Music Lyrics
The lyrics feature of iTunes & Music app is great, but sometimes it goes wrong. Here, we will explain the common problems together.
Problem: There are no lyrics when I tap the button, or I can't press the lyrics button.
Answer: Some songs (especially classics) are supposed to be no lyrics. Lyrics are not neceessary for these songs. Sometimes, the lyrics are not available because of copyright problems or other reasons.
Problem: The lyrics are out of rhythm.
Answer: Other music playback apps allow you to adjust the lyrics offset, but unfortunately iTunes or Music app doesn't have such a feature. If the lyrics are incorrect, you can only contact Apple.
Problem: There are typographical errors in the lyrics.
Answer: You can right-click a song, click "Song Info" > "Lyrics" tab and check "Custom lyrics" at the bottom of the tab, then you can correct the lyrics by yourself. Customized lyrics will be reflected in Apple Music songs on your smartphone by synchronizing the library.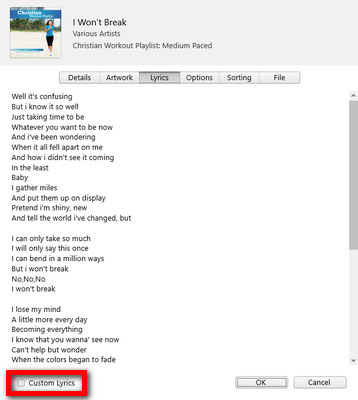 The edited lyrics are reflected on the smartphone by library synchronization, but sometimes they are not reflected well. And Apple Music songs are only available on the iTunes / Music app itself. In this case, it is recommended to convert Apple Music songs. You can listen to the converted songs freely on any device, edit the lyrics, and set the offset easily.
TuneKeep Audio Converter: Apple Music to MP3/M4A Converter
TuneKeep Audio Converter can convert Apple Music songs added/downloaded to the music library of iTunes/Music app to 320kbps MP3, 256kbps M4A, etc. without quality loss. Now you can convert Apple Music songs and still keep the original high quality perfectly. Apple Music Converter is equipped with various functions.
TuneKeep Audio Converter Features List
Convert Apple Music songs to MP3, M4A, WAV, etc.
Edit the lyrics of the output song using a third-party software app
Convert 256kbps Apple Music songs to 320kbps MP3 or 256kbps M4A losslessly
Keep song title, artist, album, genre, artwork and other song info for output files
Rename output files by song title, album, artist, track number, hyphen, space, etc.
Organize output files into albums, artists, artists/album folders
16X faster on Windows and macOS 10.9.5 - 10.12.6, 1X Speed on macOS 10.13 and later
Convert songs without downloading them to library with a stable internet connection
Compatible with the latest versions of Windows, macOS, iTunes and Music app
How to Convert Apple Music Songs to MP3 or M4A Easily
Follow the steps below to convert Apple Music songs to MP3, M4A using TuneKeep Audio Converter. It's simple and fast.
Step 1:

Launch TuneKeep Audio Converter

When you launch TuneKeep Audio Converter, iTunes or Music app (macOS 10.15 Catalina or later) will also be launched automatically. At that time, the playlists in the iTunes/Music app will be also automatically loaded and displayed in the left panel. Please do not operate iTunes or Music app during conversion, and do not close iTunes or Music app before the conversion is done.
Step 2:

Select Apple Music Songs

You can select a song by selecting the playlist on the left panel and ticking the check box of the song in the playlist. You can select the entire playlist by ticking the top checkbox of the playlist. If necessary, you can quickly find a song, artist or album by searching for the song title, artist or album using the built-in search box.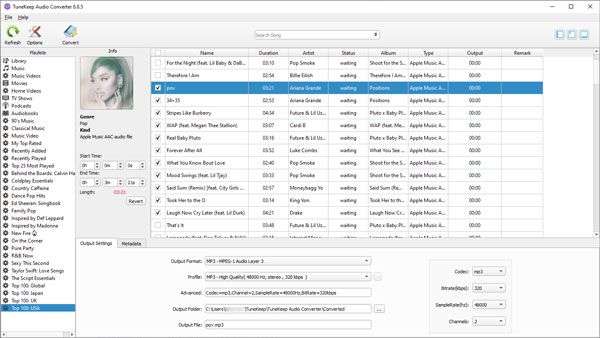 Step 3:

Select MP3/M4A Output Format

TuneKeep Audio Converter has prepared output formats such as MP3, M4A, WAV, AIFF, FLAC, AAC, AU. Generally, a generic format like MP3 or M4A is recommended.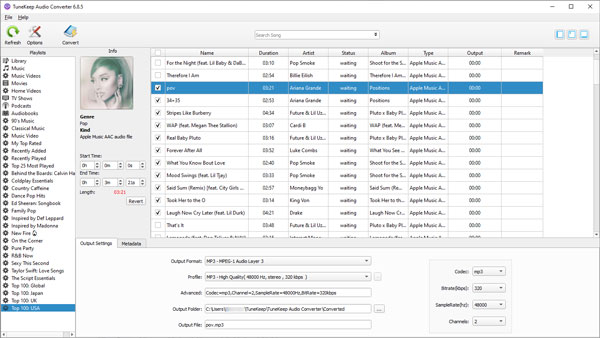 If necessary, you can click Options to specify Apple Music conversion speed (Windows version only), output file volume, renaming method, folder organization, etc.
Step 4:

Start Apple Music Conversion

When you're ready, click the "Convert" button to start converting Apple Music songs to the specified format. After the conversion is complete, click the "Open Output File" button to display the output folder and locate the output audio files.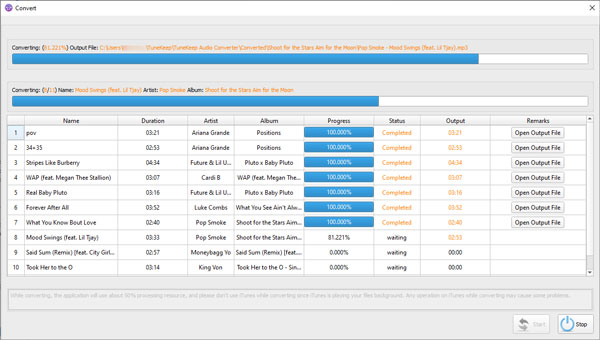 If you transfer the converted songs to your iPhone or Android mobile phone, you can play them offline with high sound quality without any restrictions or mobile data consuming. Also, if you put the songs in a device such as iPod Nano / Shuffle, Sony Walkman, MP3 player, PSP, you can enjoy the songs on the go.
How to Display Lyrics When Playing MP3/M4A Files
After converting Apple Music songs, you can keep the song title, album, artist, artwork, etc. in the output MP3, M4A file, but the lyrics are not part of the ID3 tag, so the lyrics won't be kept. Here, we will explain how to display and edit lyrics.
Windows
There were many free lyric apps before, however, most of them are discontinued and out of development. Recently, the best free lyric software called "Minilyrics" was discontinued. It can be used in conjunction with playback software like Windows Media Player and Lyrics. If you have an internet connection, you can search for lyrics in MiniLyrics while playing a song. You don't have to type it one by one. The lyrics file is a text file with a "* .lrc" extension, so you can edit the lyrics yourself.
Another free lyric program called "Lyric Plugin" can be used to Windows Media Player and Winamp as well. However, the lyrics are static and are not synchronized with the song playback progress.
You can also open Microsoft Store and search "lyric", then you will get some results. For example, "MusixMatch Lyrics" can work with iTunes, Spotify and Windows Media Player.
macOS
LyricsX is a lyrics display app for macOS. It's compatible with the latest macOS. It is still being updated.
You can find that LyricsX works with iTunes, Music app or some other players if you open the preferences dialog of LyricsX. LyricsX has various setting items. You can adjust functions such as font size, interlocking software, lyrics storage destination, color, foreign language, etc. depending on your own needs. Generally, the lyrics are displayed at the bottom of the screen, but you can customize the position and display method of the lyrics as you like.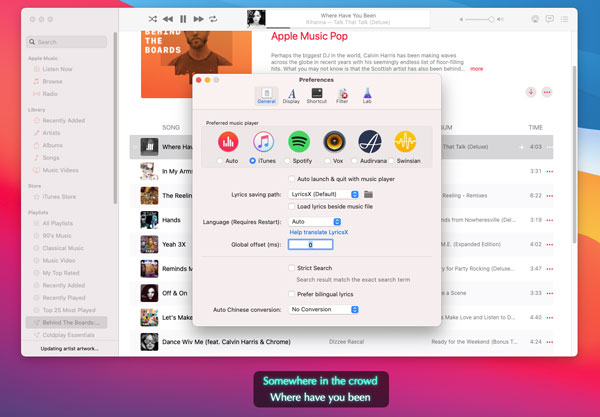 iOS & Android
On iPhone, iPad, Android smartphones and tablets, you can install a third-party lyric app to view the lyrics while playing the output songs you transferred. Recommended lyrics apps include MusixMatch, Genius, Shazam, SoundHound, QuickLyric, Lyrics Mania and ASLong. You can get them from the App Store or Google Play. Generally, a free trial period is offered. Please try it before you buy.
With TuneKeep Audio Converter, you can convert Apple Music songs to plain MP3, M4A and other formats. You can play them on any devices. However, if you want to display the lyrics while playing the songs, you need third-party software. I hope the lyrics app and software introduced above will help you.
If you are using Apple Music, please download and try the free trial version of TuneKeep Audio Converter.